Hello Folks,
Last night's weather report was showing that today was suppose to be extremely hot and humid. I can vouch for the weatherman. He got this one right! :)
I arose at 5:00 am with my wife. She was preparing to return to work after a combination of vacation and holiday vacation. She was off for nine straight days after working 20 of 21 days in a row... She's a total working machine! We ate breakfast together before she headed off to work.
I didn't want to travel far so I chose to go to Lake Aldred today which is only about 15 minutes down the road from my home. Before heading south to the river, I needed to stop for gasoline for the boat.
Have you been noticing that our gasoline prices have started to rise once again? Prices seemed to have started rising during the long 4th of July weekend and they are still rising. I thought President Obama released some of the oil reserve to hold the price of gasoline down for the summer... He did, but I guess the gasoline companies and OPEC are now showing us who's boss!
I arrived at the ramp around 6:30 am and prepared to launch my jet rig... unplug the trailer lights, unsnap the back straps, unhook the rubber straps holding my 115/80 in place, place the key in the ignition switch, place the rods on the front deck, uncover and turn on the front depth finder, turn on the console depth finder, attach the rope to the boat and trailer so I can solo launch, hook up my small speakers to my cell phone... Gotta have country music playing on Pandora! I'm sure I left something out, but as you can see I definitely have a set routine I follow while preparing the boat to launch.
Usually when I'm on the water and preparing to return to the ramp, I'll stow all my rods and tackle before I leaving. This saves me a lot of time when I return to the ramp. The faster I can get on the road heading home, the better, especially on such a hot and humid day like today!
The water level at the ramp was well below "recreational level" this morning. I guess people only recreate on the weekends... LOL!
Since I only caught small fish today and didn't take pictures of 14" and smaller smallmouth bass, I decided to take a few shots of indicators to show you the drastic drop in Lake Aldred's water level from last evening.
This area, on the average, is the worst "Young of Year" (YoY) river site reported by the Pennsylvania Fish and Boat Commission. During the spawn, things can go south really fast if the water drops like this. If a fish spawns in the shallows and the dams draw down like they did today, the eggs will be left high and dry... It doesn't take a rocket scientist to figure out that this may be a major issue for Lake Aldred's smallmouth bass population.
Take note to the water marks on the boulders. The marks were in the range of 4-5' in height.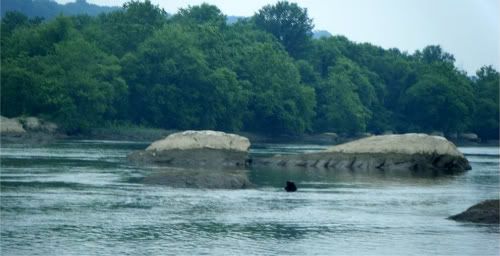 A closer view of the same boulders. Notice the smaller rock in the front. This rock is normally underwater.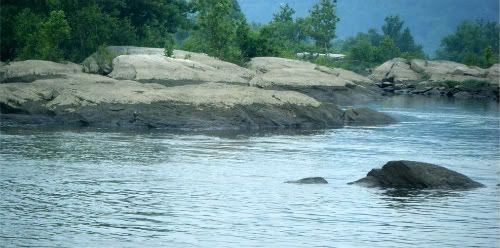 I use certain boulders as indicators for when the water starts to drop. My normal indicators were all well out of the water today.
The water temp was 79-80 degrees today. Water clarity was the typical "Lake Aldred Green". The Safe Harbor Dam was generating from two to three gates and providing a strong current on the east side of the river and along the Conestoga River channel.
It was a very hazy and sultry day. I had started sweating at the ramp while getting the boat ready and I don't think I stopped until I was heading home in my air conditioned truck... Phew! It was seriously importnat to stay hydrated today while fishing. It was 73 degrees this morning when I arrived at the ramp and it rose to 90 degrees by 1:00 pm.
I arrived home just in time to beat an afternoon thunderstorm and down pour. I didn't even see this storm coming when I was preparing the boat for towing at the ramp. It came up quickly and left just as fast.
I used my Big O crankbait, Winco Smallmouth Special Spinnerbait, Cotton Cordell Super Spot (lipless crankbait), and a tube. The only lure that caught fish was the Big O in Firetiger (The Ugly Bait).
Side Note: Dell and I will be attending a memorial service tomorrow for Betty Doan. Betty was an art teacher and elementary principal for the Penn Manor School District. She was diagnosed at the age of 18 with breast cancer. She was not expected to live, but defied all odds and lived an additional 45 years!
Betty was the wife of our very good friend, fellow teacher, and middle school principal, Harry Doan. Harry and Betty had two terrific sons... Jamie and Kurt.
If you find it in your heart, please keep Harry, Jamie, and Kurt in your thoughts and prayers as they learn to adjust to a life without Betty.
Take Care and Be Safe!
Dad