Hello Folks,
What a fantastic day to be on the water!
I arose at 5:00 am and arrived at the ramp by 6:30 am. We have been having a scorching heat wave with unbearable heat and humidity. That all broke last evening and in a big way. The thermometer on my truck read 57 degrees on my 15 minute ride to Lake Aldred this morning.
I wasn't surprised at all to see three other trucks/trailers already in the parking lot when I arrived. Two more anglers arrived with their boat in tow while I was launching the G3. This was the day we were all waiting for... Lake Aldred at 168' and perfect weather. Let's go fishing!
I ran to the dam and got another pleasant surprise. The Safe Harbor Dam was only generating from one turbine and the current was just right. I was able to run to my favorite little corner of the lake and began tossing buzzbaits. Without a hit for over twenty minutes, I put the buzzbait down and picked up a War Eagle "Screamin' Eagle" with a Green Shad skirt in a 3/8th oz size. Let the games begin!
I almost immediately enticed a feisty 14" into taking my offering. It wasn't long before another grabbed and ran with it... Okay, somethings working and I'm not asking any questions.
My Lowrance showed the water temp at 79.2 degrees. It always seems a bit cooler this close to the dam. I believe that when the dam is generating electricity and pulling water from Lake Clarke, cooler water from the bottom passes through the turbines and is pushed into Lake Aldred, thus creating cooler temperatures.
My own personal theory without a bit of science to back it up. LOL!
Here's a fact that I do know. When Josh and I were fishing Lake Clarke on Monday, we had readings in the mid-80s.
The perfect conditions lasted for over two hours. In fact, I caught several smallies in that time and then this little treat hit...
A Largemouth up by the dam. Go figure!
Like I've said before, Jeff and I have been catching largemouth with size in and around the rock garden this year.
Here are a couple of videos I took this morning... Nothing special. Just hoping to catch a fish on camera... Which didn't happen. But you will be able to see just how beautiful the weather and water conditions were today...
The Safe Harbor Dam blew their Warning Siren several Times over the next hour. It seemed like they were pumping water through to maintain the lake level and then it would stop.
AT one point, I had a good two hours more to fish under prime conditions... Fantastic and a lot of fish came to hand!
A couple of helicopters were out inspecting the power lines today. I know that they visually check the lines and towers, but I do believe that they utilize apiece of equipment that helps detect electrical problems (?)... Just don't quote me on that one.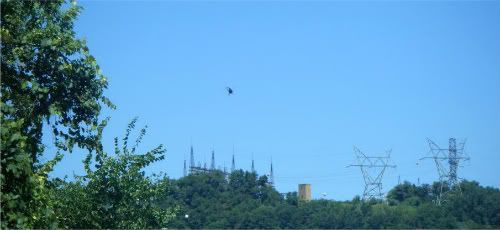 Right before the helicopter made it's second pass from the York to Lancaster County side of the river, I spotted two immature American Bald Eagles directly overhead. The first flew past before I was able to get my camera out for a shot. I always enjoy calling or attempting to call to the eagles. On occasion, they will return and circle above you most likely thinking, "What the heck does that human think he's doing anyway!?"
I've had surprising luck calling them back. This one returned screeching and circling above...
This was a multi-species day on the water. Not only did I catch my share of smallies today, but I also caught the largemouth and several catties. Yes, even the catties were taking my blades. I had numerous swipes by catfish and one that hit it like a freight train and eventually let the spinnerbait go.
That was one thing I noticed as soon as I arrived at the dam this morning... The catfish were jumping!
Here's what one smallie gave back to me after hitting my War Eagle... I got the blades and he got a face full of metal! :)
I got off the water around 1:30 pm. The air temp had risen to a nice and comfortable 82 degrees with bluebird skies. There was a brisk breeze on the water most the morning. I believe that you can hear it in the first two videos I took today. I would guess-timate that the east wind was blowing off and on at around 10 mph today.
Update: The J &T Boat vs. The S & K Boat (Day 2)
The teams headed above Harrisburg to one ramp where they had difficulty getting their boats off the trailers. So, they made a quick decision to hit the road and move closer to Harrisburg and into some mighty skinny water. (3.58' at the Harrisburg Gauge)
After a few hours of "no luck", the teams decided to head back to the location that they had fished yesterday in hopes of getting rid of the foul skunk odor in their jet rigs.
This was now their third ramp, but their luck didn't change. The J & T Boat smelled "Mr. Skunk" all day long. However, with persistence and some luck, the S & K Boat finally caught the only bass between all four anglers... Steve nailed a bass on a spinnerbait!
After two days of fishing, The J & T Boat ended their two day adventure with 7 smallies and the S & K Boat had four smallies and lunker (18" smallie).
Despite the friendly competition among friends and family, I would call all four anglers - Josh, Steve, Tyler, and Kayla - winners! It was nice seeing Steve taking his children on the water with a little help from his good friend, Josh Kreider.
This may have well been my last day on the water until after my knee replacement.
Once I am well enough to get back on this computer, I will bring you some great blog entries regarding gear and tackle.
I want to thank all my visitors for their faithful following of "Fishing With Dad". I appreciate all the effort you make to repeatedly visit and share in my crazy, mixed-up world of fishing... Thanks!
Take Care and Be Safe!
Dad