Hell Folks,
Thank goodness I have some very good fishing buddies who I can depend on to keep me informed of what's happening on the river almost on a daily basis... And for that, I thank them tremendously!
I've been kept busy this week with Penn Manor Youth Basketball Summer Camp. We have two sessions per day. In the morning, the younger 3rd to 5th graders attend. The 6th through 9th graders attend in the afternoon.
I always have a lot of fun doing summer bball camp. It helps keep me young. But my age keeps showing through during the evenings and the next morning. Sore as can be, I roll out of bed and like an old race horse, I have to walk a bit before I start to limber up.
Remind me to tell you of an old horse named "Blue" that I used to ride back in a college "Horsemanship" class at Millersville University for Phys. Ed. credits. Blue had arthritis, too. I'll just leave it at that for the moment. :)
Jeff and Matt have been keeping me updated on what's happening on Susquehanna River. We had a spike in the water level this past week, but it is slowly falling once again.
Safe Harbor Dam has been generating heavily almost around the clock... "Mo' Water, Mo' Money!" When I'm fishing with Dell and the safety siren goes off to warn boaters of a new water surge at the Safe Harbor Dam, he jokes with me by asking what does that siren mean and I always yell out, "Mo' Water, Mo' Money!" :)
The water flow below the dam can be quite treacherous and it requires someone with a bit of geographical knowledge and know how to navigate the rock garden safely with a 80 - 101 lb. thrust trolling motor. But if one can do so, they will reap the rewards of some very decent fishing.
What we have been finding this year are largemouth bass up in the rocks. Not that we haven't found them before, but this year we have been catching LM with better size.
Here are two nice size largemouth bass that Jeff and Penny nailed this past Sunday. The first is a 17" and the second is a 16".
For those who are not familiar with the difference between a smallmouth bass and a largemouth bass, please take note of the markings and coloration of the largemouth bass that Jeff is holding in these two pics. Then go back into the blog entries and look closely at the marking and coloration of a smallmouth bass.
You will find that a largemouth has a greener tint to it and pronounced lateral line on it's side. The LM bass' large upper jaw extends past it's eye.
17" Largemouth Bass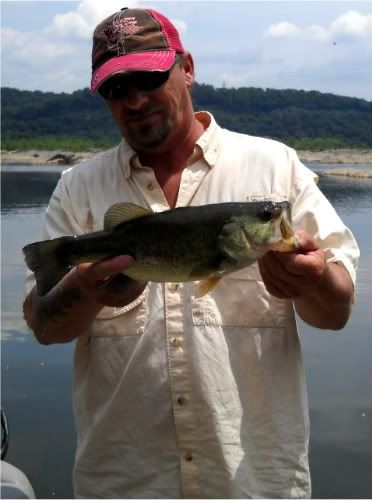 Hopefully, I'll be back on the water soon after basketball camp ends. But until then, I want to once again thank Jeff and Matt for keeping me well informed and updated. Their help is greatly appreciated and I love sharing the pics of my friends!
Take Care and Be Safe!
Dad