Hello Folks,
No good pics to show today... Nope! Not one bite in four hours of fishing and it made for a very slow day of fishing and a strong desire to get off the water and go home. There will be better days... Guaranteed!
Don't be fooled here. I truly thought for a split second about lying through my pearly whites and telling you all that I caught a ton of smallies today. But alas, I couldn't lie to my devoted followers without feeling a guilt that would once again keep me awake all night. Two nights without sleep would have been a true killer. :)
5:00 am. came awfully fast this morning after a night of broken sleep. I was wrestling all night long with whether I should take the chance and go fishing or not. There was a chance of morning showers. Every time I would wake up, I would check the Weather Channel to see what the Doppler radar was showing. I think I was checking the radar in my sleep. LOL!
As 5:00 am. arrived, there was absolutely no bad weather showing. "I'm going solo fishing!"
The boat and gear was prepped the night before and all I had to do after getting downstairs was to hook up the boat, prepare my lunch, grab a bite for breakfast, and take my morning medications.
The air temperature was 63 degrees on the truck thermometer and the sky was mostly clear. The humidity had broken after the Cold Front moved through last evening... Ah, a Cold Front after a week of hot and humid weather that brought numerous thunderstorms!
Two strikes... Cold Front and Blue Bird Skies in a post-spawn pattern. Sounds like a formula for disaster.
I arrived at the ramp around 7:15 am and readied the boat for launching.
This was my first trip to this spot in 2011. I usually have fished here at least a half dozen times by now, but the high waters and bad weather has kept me away. I guess with the results I had, I should have stayed away a bit longer... LOL!
Even my favorite grass bed failed to yield a single bite. This spot usually gives me a couple of quality bass. Several years ago, I caught two 20" smallmouth bass off of this grass bed. Today... Nothing!
The wind was relatively calm when I arrived at the grass bed and the sky was clear. The middle of the river was dingy brown... Hmmmmmm. Strike three!
The water temperature was 74 degrees and the water level at Harrisburg's river gauge was showing 4.05' and rising.
This is the view I had first thing this morning. Even the background country music didn't entice the bass to bite. Did I ever ever tell you that I have on good source that smallmouth bass love country music?... That's a secret between me and you. Shhhhhhhh. ;)
I tossed everything but the proverbial kitchen sink... buzzbait, spinnerbaits, tubes, Winco Wacky Stick Jrs., jerkbaits, nose hooked soft plastic jerkbaits, crankbaits, and lipless crankbaits.
From top to bottom and I couldn't buy a bite.
Oh, well... I believe I try Lake Aldred tomorrow for a few hours. Despite the lack of success today, I feel drained. Maybe this is a the side effect of a very disappointing day. I waited all week to get a day that was safe from thunderstorms and Mr. Skunk came for a visit. Pee You!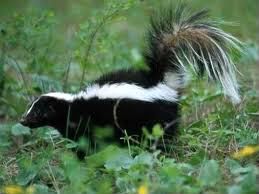 Take Care and Be Safe!
Dad