Hello Folks,
My good fishing buddy, Jeff, and his wife, Penny, made it to the river yesterday for a few hours of late Spring fishing. Summer starts tomorrow and we will be saying "Adios!" to the cold (11 degrees below average at the start), hot (2 heat waves), windy (tornadoes), and wet (flooding river) Spring of 2011.
We had a lot of cold and wet early Spring days. The river rose numerous times into the "Flood Stage" and above. It kept us off the river for quite a large number of days.
I was able to get on the water 22 of the last 122 days. I would have been out even more, but the weather kept many of us from enjoying what we like to do... Fish for smallmouth bass.
Jeff emailed me last evening with several pics of their outing. If you remember from an early blog entry this Spring, I had caught a 19" largemouth in what is normally "Smallieland". Well, Jeff was able to hook into a beautiful 20" largemouth just a bit north of where I caught mine. He told me that it was the one I caught, but it had grown another inch... LOL!
Penny and Jeff caught sight of the mature American Bald Eagle that lives in this general area along with several smaller immatures. Here is a pic that they took as the eagle perched on a railing at guard over the Susquehanna River.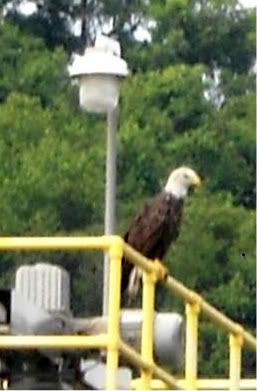 The next shot that Penny and Jeff sent me is that of Jeff holding a very healthy smallmouth bass. Jeff owns a Tracker Inboard Jet with a 175 hp engine... Here he is sitting on the back deck holding the smallmouth.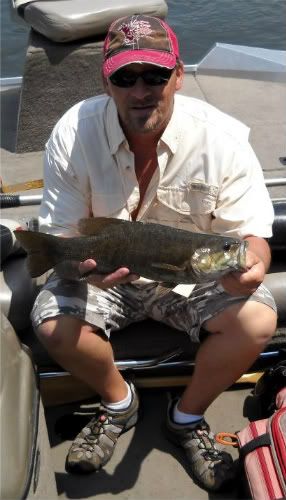 My buddy, Dell, runs summer basketball camp for the Penn Manor School District. The camp will run from Monday, June 27 through Thursday, June 30, 2011. Because of the problem with my left knee, I'll only be helping him with all the peripheral tasks like t-shirt distribution and snack bar. When the boys are in bball sessions, I'll do whatever I can to assist the coaches.
Camp is great summer activity for the boys. We run a morning session for younger children and an afternoon session for the older boys. We often get some of the JV and Varsity players to assist in teaching fundamental skills to the youngsters. We have a ton of fun.
On one of the camp days, the varsity coach, Charlie Detz, comes into the gym to talk with the boys and promote Penn Manor basketball. the boys always look forward to his visit and inspirational talk.
Sports Illustrated Vault (1994) - Charlie Detz
Charlie Detz Takes Over Penn Manor Basketball 2008
This is one area of my life I need to leave behind after my surgery. At least the playing part. I have played basketball almost my entire life and it will be hard not to run up and down the court with the boys ever again. I am sure I'll mourn the loss in my own way.
I will begin my journey towards surgery starting next Wednesday at 9:30 am. That is the appointment time for my pre-op chest x-ray, EKG, and lab blood work. I will then have a PHC physician appointment on July 7 for a pre-op check-up. If all goes well, it will be a go for surgery on July 26, 2011.
Julie and I have a planned vacation to Wildwood, NJ. the week prior to my surgery. Hopefully, I'll be able to relax a bit and prepare mentally for the surgery which will be the following week.
I better get out there and fish some more before then! :)
Take Care and Be Safe!
Dad