Hello Folks,
After fishing the last several outings on the Lower Susquehanna River, I was invited by Pete Hanford to "Go North" above Harrisburg, Pa. to fish with him today. I rarely turn down an invitation to fish with Pete and today was no exception.
After the hour and a half drive north, I met Petey at the ramp at 6:30 am. It was quite foggy on the river this morning. The air temp was in the mid-60's and the water temp had cooled to 69 degrees overnight. We also had thunderstorms pass through last evening which assisted in the cooling. But above the fog, there was a nice blue sky.
Because of the morning fog, Petey took it nice and slow as we crossed the river to several mid-river islands. The water was dirty from what the North Branch was delivering into the main stem.
The west shore was relatively clear, but began to stain up as the day progressed.
Petey found a good spot to start fishing, stopped the motor and dropped the trolling motor. He had a quick hit on a bronze bladed spinnerbait. The fish went airborne and threw Pete's spinnerbait. I found that hard to believe since he had a trailer hook attached. But such things happen. From what we could tell, it was a pretty decent size fish.
I soon got on the board with a 16" smallie while tossing a chartreuse bladed Stanley spinnerbait. This blade has seen better days (It's even slightly bent), but it still produces and and is one of my favorite lures in stained to dirty water.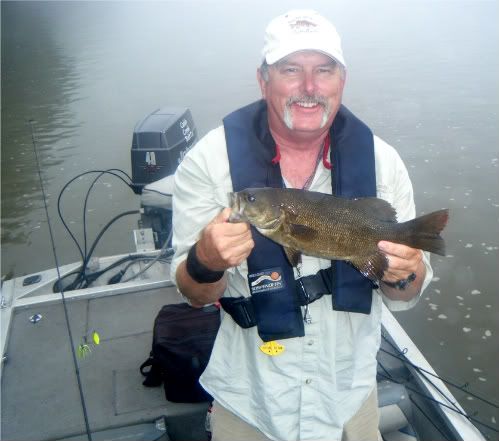 You can still tell there is fog in the background of the above pic.
As we were drifting past one of the islands, we heard the loud shrieks of an American Bald Eagle perched high in a tree. We looked for that majestic bird, but couldn't locate it. However, as we were making our way to finding a shaded spot for lunch, the mature bald eagle flew out from the same island... Just Beautiful!
This pic is of Pete working his spinnerbait as the sun began to brake through the morning fog.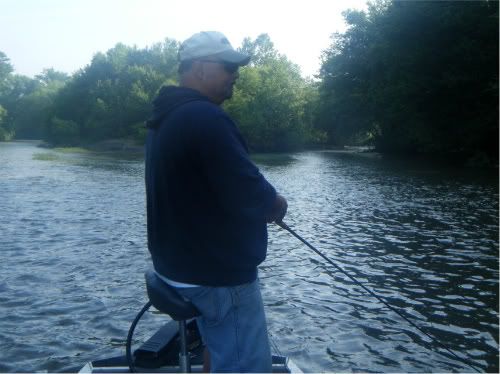 We tried numerous lures today: Spinnerbaits with different manufacturers, colored skirts, and styles of blades, Berkley Havoc, 3.5" Craw D'oeuvre, Winco's Warm Water Smallie Delight (WWSD), Winco's Predator Craw, Winco's Wacky Worm Stick Jr., Several different colored tubes, crankbaits, Cotton Cordell Supper Spot, Case Sinkin' Salty Shad (SSS), and the Zoom Super Fluke.
As you can see by the number of lures we tossed today, the "River Gods" made us work for each and every fish that came to hand. We were certainly up for the post-spawn challenge!
A beautiful and healthy Susquehanna River smallmouth comes to hand with the help of the SSS!
We ate our lunch around 11:30 am. after locating this gorgeous spot in between several islands. Great location and ambiance, Petey! :)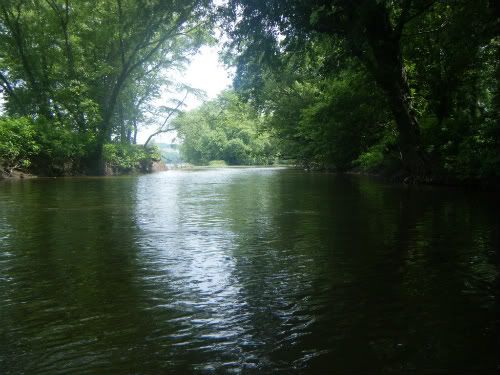 Pete was having a hay day on smaller bass with his tube jig. Here is one of the larger smallies that fell for this legendary lure.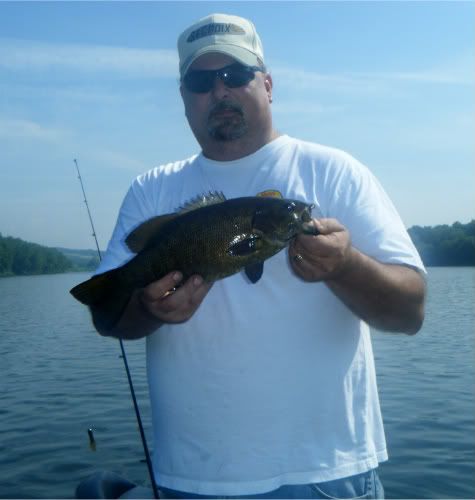 Both Petey and I had good luck throwing spinnerbaits today. Petey even gave a white skirted, three bladed spinnerbait a go and look what happened.
I had success throwing a Winco 3/8th oz Specialty Smallmouth Spinner Bait with a hammered gold blade. This lure brought a number of fish into the boat today.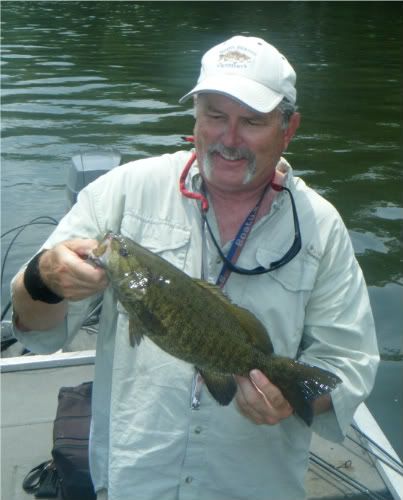 Clouds were starting to roll in after lunch and gave us some relief from the hot late-Spring sun. The air temp had risen into the upper 70s and there was only a trace of a breeze blowing across the cool water.
We ended our day on the water at 2:00 pm.
I would like to thank Petey for taking me once again on a great adventure on the main stem in the SSS Green Cloud. I always get a kick out of how many lures we go through together as we seek out smallies. I believe that between the two of us, we definitely own a small tackle shop... LOL!
Thanks, Pete!
Take Care and Be Safe,
Dad