Hello Folks,
Jeff (CHRGD) and I took to the Susquehanna River yesterday morning in search of smallmouth bass. We chose to fish an area that has been producing very nice bass since this past weekend. In fact, Jeff's wife, Penny, put a beautiful 20" bass in the boat on Saturday... "Good job, Penny!"
It was quite cool yesterday morning. I had a reading of 58 degrees on my truck thermometer at 5:00 am. So, I donned my favorite green fleece and headed to the ramp. Our plans were to meet at 6:00 am. and fish until we dropped... LOL!
I arrived at the ramp around 5:45 am. and we launched around 6:15 am.
The river level in Harrisburg, Pa. was reading 4.48' which was a drop of almost a foot since my last trip on Friday. Despite the fact that we had several thunderstorms pass through over the past few days, the water level has continued to drop. However, the clarity was a different story.
The east shoreline had muddied up once again. It wasn't a hard decision to head to the west shore of the river where the water tends to run cleaner and sooner. We had about a about two feet of clarity on the west shore with slightly dingy water.
The water temperature in the morning hours was 74 degrees. It rose to 76 degrees by the time we came off the water at 3:45 pm.
The air temp that was 58 degrees in the morn rose to 88 degrees by afternoon! A thirty degree air temperature rise is quite significant. In fact, the temperature is suppose to rise to 95 degrees today. It looks like we may be in our second heat wave of the year!
Jeff and I stayed with the lures that have been producing since Friday... tubes, spinnerbaits, and a modified worm (Penny-style). I did throw a buzzbait in the morning without success. The tube was by far the most productive bait we used throughout the trip. The spinnerbait took over for a short period of time once we entered into faster moving water.
The biggest fish was caught by Jeff. Check this out...
Yep, it was a catfish. This channel catfish was caught on a white skirted spinnerbait below ledges and in the fast moving water. Sort of caught us by surprise since we were catching smallies all day.
The biggest smallie we landed was an 18"er on a Mudpie/Orange flaked tube.
She sure did have a set of shoulders on her!
Jeff caught two redeyes with a small tube in slack water. The one "little bugger" must have been pretty darn hungry since he took that entire tube into his mouth.
17.5" smallmouth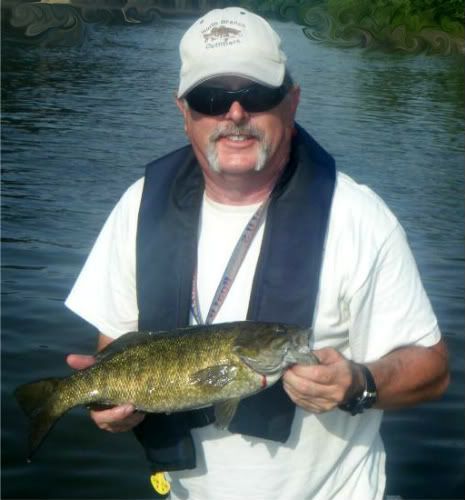 16.5" smallmouth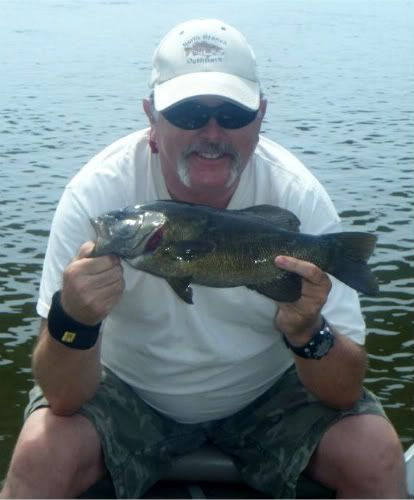 Here is Jeff's largest smallmouth of the day - A 16.5" smallie caught on a tube.
The smallmouth were "mush-mouthing" the tubes yesterday. I only had one bass that actually "thunked" the bait. The rest took the bait and just held on. The only way we knew that we had a bass on the line was that we felt the change of weight change.
It's important to get a feel for what your lure "feels" like when in the water. For example, Jeff was throwing a 1/4 oz. tubehead and I had a 1/8th oz. tubehead. His lure held tighter to the bottom in the river current and my 1/th oz. tube gave way to the current. This difference creates a slightly different presentation to the smallmouth. Both of us needed to be aware of the weight of our lures once we cast them and they fell to the bottom. As we lifted our rod tips, Jeff would "feel" his weighted tubehead a bit quicker than I would.
Woo Daves does an excellent presentation on this topic in relationship to worm fishing. If you get the opportunity to hear Woo speak, don't miss his "Worm Fishing" seminar. This topic is covered well.
We didn't get any monsters yesterday, but we caught a good number of fish with a fine representation from our smaller smallmouth population... Always a good sign for our struggling river!
A big thanks goes out to Jeff for taking this "old fart" on the water once again. We always have a good time shooting the breeze and fishing for our favorite sport fish, the Susquehanna River Smallie!
Take Care and Be Safe,
Dad