Hello Folks,
Our local schools are now out for summer vacation which means my buddy, Dell, is home for the summer. Dell is a math teacher at the middle school where I was a school counselor. We befriended each other years back because of similar interests... education, basketball, and bass fishing!
Dell usually asks me to help him each Spring to get his jet outboard motor up and running. Yesterday was the the first time we had it in our schedules to do this. So, we met at his home at 6:30 am., packed my gear into his boat, and headed to the ramp.
We had a pretty wicked storm pass through the area the night before. Although we got mostly wind and a quick downpour, many areas around us were hammered with major thunderstorms.
This is what we found when we arrived at Riverfront Park in Columbia, Pa. (Picture taken by lwrsusq)
I was shocked to see how much destruction took place there. A number of very large trees and tree limbs were snapped like match sticks. The tree in the above picture is quite large and the wind did a number on it.
Several of the roads that lead in and around the ramp parking were closed due to downed trees blocking them.
Despite the damage, the ramp was still open for us to launch. Dell's OB motor started right up! Dell said to me, "We must have done a something right winterizing it last Fall." LOL!
We had a slow morning of fishing catching only several bass, a couple of legal size walleyes (20+ inches), and two channel catties. Dell just loves eating walleye and was very pleased with the "catch of the day".
My fishing buddy, Jeff (CHRGD) and his wife fished a bit later in the day and south of us. They were able to pick up a few bass and this...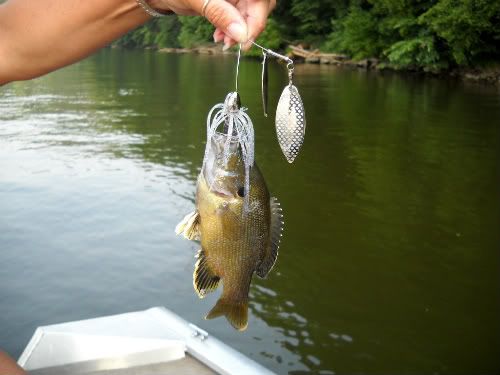 A feisty sunnie who decided that Penny's spinnerbait was just too much to resist! :)
The storms the evening before were spurred by a mild cold front that had passed through. It was enough to slow the fishing down from earlier in the week. The rains had dirtied the water once again. But the water temperature remained in the upper 70s (78 degrees when we launched).
The air temp hit 85 degrees by noontime and the humidity was rather high. Last evening, a major cold front entered our area and there will be thunderstorms sticking around most of the day today. This cold front will usher in cooler temperatures and less humidity for the beginning of next week... Nice!
The river predictor is showing a 9" increase in water level on the Susquehanna River in Harrisburg, Pa. by Monday morning.
Hopefully, I'll be out on the water early next week.
Take Care and Be Safe,
Dad
p.s. I forgot to mention that Dell and I saw a Peregrine Falcon sitting under the bridge munching on a pigeon. Peregrine Falcon are a rare sight, but can often be seen nesting under the bridges crossing the Susquehanna River.
We also caught sight of a mature Blad Eagle as it flew north. There is a nest located just about two miles north of where we were fishing.