Hello Folks,
Josh and I headed upriver today to fish above Harrisburg, Pa. The river level was 8.95' and still rising to a predicted 9.07' by tomorrow. The water clarity was muddy (possibly a 6" visibility) with a swift current. The water temperature was holding at 68.8 degrees.
This morning temperature was 66 degrees when we arrived at 7:30 am. and rose to 84 degrees by the time we came off the water at 1:30 pm. We had overcast and drizzling skies in the morning hours before the sun eventually broke through the cloud cover making for a very nice day.
The fishing was very poor on our end, to say the least. We were only able to land one 16" smallmouth in the entire 6 hour we were on the water. We fished hard at rock walls and eddies until Josh finally landed this nice Susquehanna bass on a tube.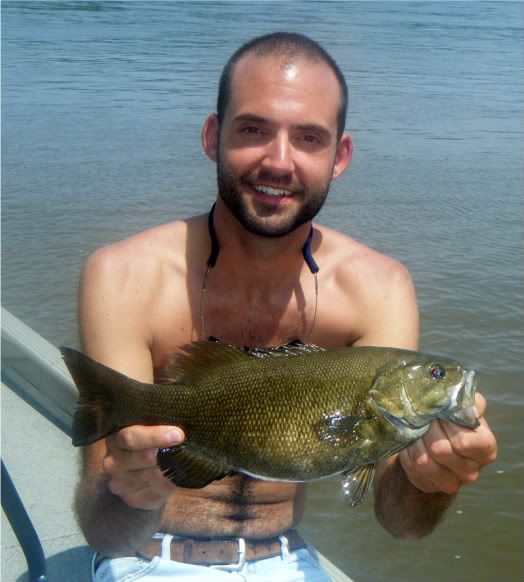 I believe the river kicked our butts today. Despite the beating we took, we were able to kick the skunk out of the boat. But let me tell you, it sure wasn't smelling good most the day.
I did notice when I got home that the river predictor had dropped the 11' (Action Stage) to 9.07'. I assume that they were predicting more rain on Friday than we actually got.
We have had so many days where the river has been extremely hard to fish. Today was just one of the many we have seen this Spring.
I had two friends who fished the Lower Susquehanna yesterday and did very well. The muddier water had not reached this far south yet and yesterday was most likely the best day to be out fishing locally.
I wasn't able to be on the water yesterday due to family obligations. But there will be many more great days ahead. I promise!
Take Care and Be Safe!
Dad