Hello Folks,
I had a scheduled doctor's appointment at 8:30 am. yesterday and was planning on taking a solo fishing trip afterwards.
My wife arose at 5:00 am. for work and I woke up along with her. I was in my bedroom when I heard a knock at the door. My son, Zach, wanted to know if he could come along when I went fishing. "Well, of course you can, son. But we won't be leaving until 9:00 am or so." I wasn't expecting that and it certainly started my day out on the right foot.
We hit the road around 9:30 am. and made it to the Juniata River by 10:30 am. Not bad driving time at such an hour. It was the first time that Zach and I launched the boat together this year and there was some "relearning" to be done. He did a great job backing me into the river by using the side mirrors of the truck. I apologized to the two waiting anglers and explained that it was our first trip out together this year, They laughed about it since
we've all been there
.
We ran to our first hole and started fishing around 11:00 am.
The river(s) were clearing well and dropping like a rock. The Juniata River has dropped a foot in the past two days, but navigation was still rather easy and safe.
It didn't take long to hook into this nice 17" smallie.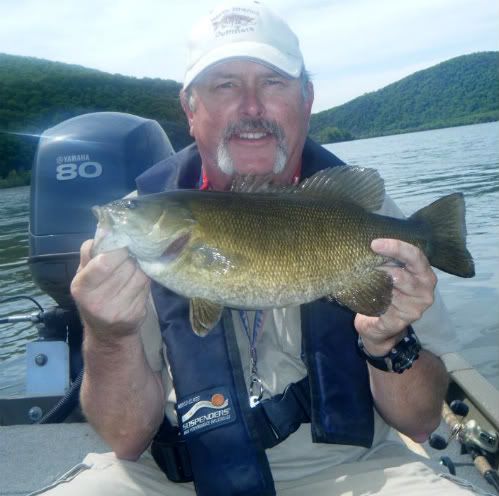 We were both stoked in knowing that fish were holding in our spot and interested in our offering.
I caught a couple more and then Zach finally joined in the fun with our second beautiful 17" smallmouth.
The sky was clear and the sun was heating things up quickly. The air temp was 61 degrees when we arrived at the ramp and rose to 75 degrees by 4:30 pm. The water temperature ranged from 56.7 degrees to 58.2 degrees in the five hours we were on the water.
We anchored in to eat our lunch. I always carry my Sirius Radio on the boat and we sat back and enjoyed The Highway, ham and cheese sammies, and chips. Why is it that food always taste better on the water!? :)
While resting and enjoying the break, we spotted a peregrine falcon flying overhead. It's not everyday that one gets to see such a sight. I was glad Zach was along.
After a quick review of our morning fishing, we made our afternoon plans. The morning spot was still producing fish and we decided to stay until 2:30 pm. and then move on to our second hole.
Zach got a knotted mess going with his line when the afternoon breeze picked up and asked me to help him out. So, he handed me his rod and reel and I asked him to pull the lure out of the water with his hands. Just as he started to pull, he yells out, "Dad, I got one on!" Yepper, he had caught a smallie with a rod that was a tangled mess and here's the proof.
Crazy stuff! Right before that, my middle son who was at home called me while my lure was in the water. He was checking in with us to see how our day was going. Only a few seconds into the call, I had to stop and tell him I had a smallie on the "Other Line"! I quickly handed my rod to Zach for him to reel in the hooked bass.
We compromised that he should add my cell phone bass to his numbers since he reeled it into the boat and that I should count his "tangled mess" smallie to my count since I was holding his fishing rod when we caught it... LOL! It all works out in the wash! :)
At 2:30 pm. we stowed the rod and reels and headed to our next fishing hole. This spot held smaller fish, but our numbers were good.
Any day that one of my three sons spends the day on the water with me is an absolute excellent day. We got to talk about life, in general, for hours. It always brings us closer together with a common purpose... To catch smallmouth bass!
There will be other trips this year that Zach will join me. I will be eagerly anticipating our next father/son fishing adventure...
"I love you, Zach!" - Dad