Hello Folks,
I was able to get out on my fourth trip of the year today. It was Pete's very first 2011 fishing trip. He text messaged me on Friday and asked if I wanted to go along with him as he sought after his first smallmouth of the year. "You're darn right, Petey! When and where?"
As always, I picked up a couple of really good ham and cheese subs for our outing. It's the way we repay one another for a trip using the others boat. We have a few really good pizza shops here in Willow Street, Pa. that make their own sub bread... Hmmmmmm. :)
I met Petey above Harrisburg, Pa. around 8:00 a.m. this morning. It's about a 90 minute drive from Southern Lancaster County to this ramp. So, I was up, ate breakfast, and was on the road by 6:30 am.
The air temp when I got into my truck at 6:30 am. was 35 degrees. By the time I arrived at the launch, the thermometer rose to 43 degrees. Ahhhhh... A warming trend. LOL! Actually, the air temp rose to a balmy 57 degrees by the time we returned to the ramp at 3:30 pm.
The wind was howling pretty darn good (15mph with greater gusts) during the morning hours and eventually died down some come afternoon. Despite the decent air temps, I'm sure the wind chill knocked the "warmth factor" down a bit. I wore my heavy jacket and wool gloves all day to take the sting out of the biting wind.
I caught each and every one of my smallies today on The Chillee Willee. I also tossed The Undulator, jerkbaits, tubes, and PowerTeam Lures Craw D'Oeuvre (GP with light blue swirl).
Pete caught all his smallies on tubes. He gave the Chillee Willees and hair jigs a try without luck.
Our first fish of the day was a beautiful 19.5" smallmouth caught half the distance between the boat and shoreline. The bite came as the lure started to make the swing just behind the boat.
After we got the fish into the boat, measured, and took a pic of it, Pete notice that his line had gotten hung. He picked his rod up off the deck and... "SNAP!" :( It was a brand new St. Croix Mojo Rod rigged with a brand spanking new Shimano Stradic. It looked like someone had taken a saw to this rod right above the first guide. That's how clean the break looked.
Pete held it together surprisingly well after just breaking a brand new rod. I asked him if he still had the receipt at home. He said that he did and will be making a trip real soon back to "Dick's".
Petey put some pretty nice looking fish into the boat today. His biggest was this healthy 17.5" smallie that came off the backside of an island.
Check out this "Double" we nailed right after lunch. Pete was on fire and had just put "back-to-back" smallmouth in the boat when we both felt the familiar tap. He was tossing his "lucky" tube and I was using today's hot bait, the Chillee Willee.
Prior to lunch, we had no smallmouth under 15". However, after lunch, we did land a few in the 14-15"
Here is another 17.5" "chunk" that came to hand in the morning.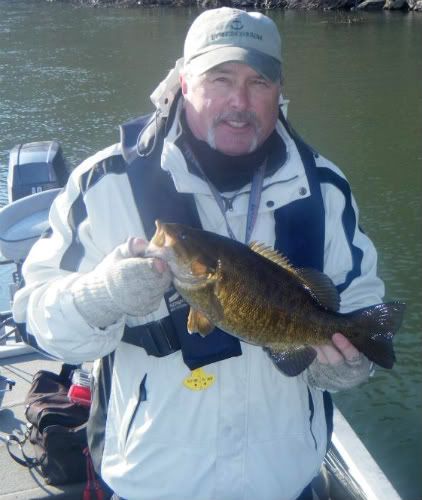 What a great day to be on the water. I was surprised to see only a few trailers at the ramp this morning. Usually at this time of year, we'll see quite a few guide boats parked there. But only one guide with two clients pulled into the ramp as we were preparing to launch.
A big "Thanks" goes out to my buddy, Pete, for allowing me to tag along once again today. As always, we had a lot of fun, saw a mature bald eagle in flight, and even caught some beautiful smallmouth bass, too!
Take Care and Stay Safe!
Dad