Hello Folks,
I would like to wish a Happy St. Patrick's Day to all my Irish brothers and sisters... By the way, we're all Irish today!
Jeff called me on Tuesday and said, "Hey Tommy, you want to go fishing on Thursday?" Of course I said, "Yeah!" Yesterday, he called me and said the river is still high and running fast. "Do you still want to go out?"
"Yeah!"
Jeff launched on the west shore and ran over to the east shore to pick me up at 9:00 a.m. The air temp was 40 degrees and the water temp was around 42 degrees... Not bad.
We traveled back to the west shore where it was dirty, but cleaner than the east shoreline. Tthe water clarity worsened as the day continued. I started the day by tossing a chartreuse skirted Bronze Bush Whacker spinnerbait with an Olympic blade and Jeff chose a Winco Warm Water Smallie Delight.
We fished for 8 hours today with only two gizzard shad and a crazy carp scale to show for it... LOL! The shad were quite big. Both were over 16" in length and hefty little guys.
The first shad was caught on a Lockett Minnow and the second came on a 2.5" Green Pumpkin tube with a 1/4 oz. tube head.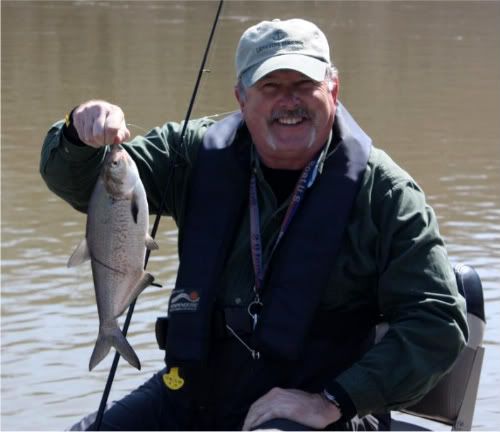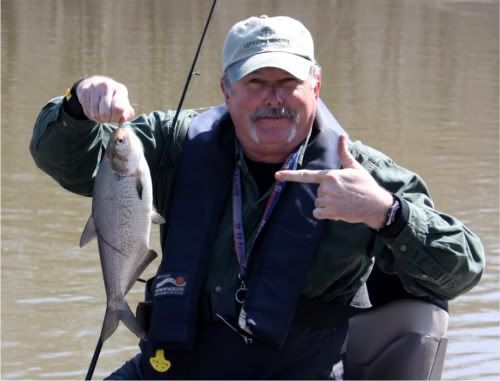 I hate handling gizzard shad! They are sleek, slimy, and stink! Here I am "chasing" the second gizzard shad around and around with my Boga Grip. Trying to get that "grippy" piece of metal into the shad's soft and very small mouth is not an easy task.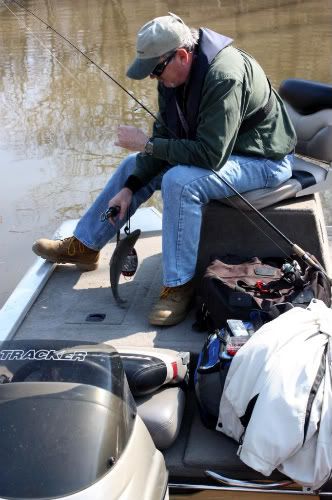 Finally, after several frustrating minutes, I was able to grab that slimy fish and hold it up for Jeff to snap a picture.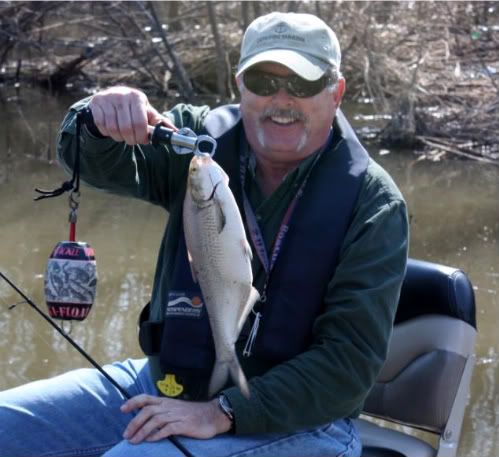 We almost had a second species in the boat, but my Lockett Minnow only took a bite out of it. I believe it was a "Carpon"! :)
The skies were clear most the day. There was a slight wind coming from the northwest. However, as the day progressed, the winds picked up and shifted. Southern breezes brought the warmer afternoon temperatures. The air temp rose to 61 degrees by the end of our trip. It was a super nice late winter day!
We tossed spinnerbaits, Bronze Bush Whacker, tubes (3.5" and 2.5"), Warm Water Smallie Delights, Lockett Minnows, lipless crankbaits, and lipped crankbaits. I had six different lures tied on my rods today and I gave each one ample time to produce fish.
I plan on heading out again tomorrow with Josh Kreider and my son, Zach. Hopefully, my luck will take a turn for the better and I'll be able to land my first 2011 smallmouth. Withe the three of us tossing different lures, we may be able to zero in on a pattern quicker.
A big thanks to Jeff for spending the day with me. We always have a great time solving the world's problems and discussing a thousand and one topics. I also want to than Jeff for giving me some new colored tubes. I'll put them to good use this coming year.
Take Care and Be Safe,
Dad