Hello Folks,
When Mike called me on Tuesday (Sept. 28) and asked me if I wanted to fish with him on Wednesday (Sept. 29) to prepare for his weekend fishing club tournament, I thought, "Is this going to be all for naught?"
I knew that Tropical Storm Nicole was heading up the coast and straight for us. I have three aunts and one uncle living in New Bern, NC which is a coastal town. My Aunt Ginnie wrote to me today and said they had over, get this, 20" of rain this past week and 8.5" alone yesterday. OMG!! That is a heck of a lot of water to absorb. She said her front yard is still under water.
Yesterday's Susquehanna River predictor called for a rise from 3' to 15.2' by Sunday. Today, they readjusted the rise to 13.4'. That is still a 10.4' jump in four days! It will be running at 183,000 cfs (cubic feet per second). A huge jump from the 3,800 cfs that we had last Wednesday when Josh and I fished the Middletown, Pa. area.
The water temperature was 71 degrees and the air temp in the morning was 56 degrees. The air temperature rose into the 70's as overcast skies developed after lunch. There was a slight Northwest breeze blowing in the morning which later shifted to the South in anticipation of the approaching storm.
The water was rather clear except for the normal turbidity at the damn. PPL was running two turbines when we arrived and dropped to a slow one gate by the time we left the area.
We met a couple of ex-Penn Manor students, the Minmalls (I believe... Correct me if I spelled that wrong, guys), at the ramp. It was nice to see them as adults and FISHING! They actually noticed me first and asked if I was me... LOL. Both brothers read this blog... Cool Beans! I thanked them because it always makes me happy to know that folks are reading and enjoying my ramblings. :)
Despite the low level on the lake that morning, Mike and I were able to hit the water around 7:00 a.m. (daybreak). Mike's Snyder Boat trailer has rollers which makes it a bit easier to get on and off the trailer.
We headed north and into the rocks below the dam where we fished in and around he boulders and rocky ledges. We caught a couple of bass on spinnerbaits. We threw cranks and tubes, as well.
It was a rather slow day for us overall. We landed about 7 bass with two in the 16" range. I was getting a bit worried about Mike since it took him until the afternoon to catch his first bass... But check it out. A nice 16.5" chunky smallie on a spinnerbait.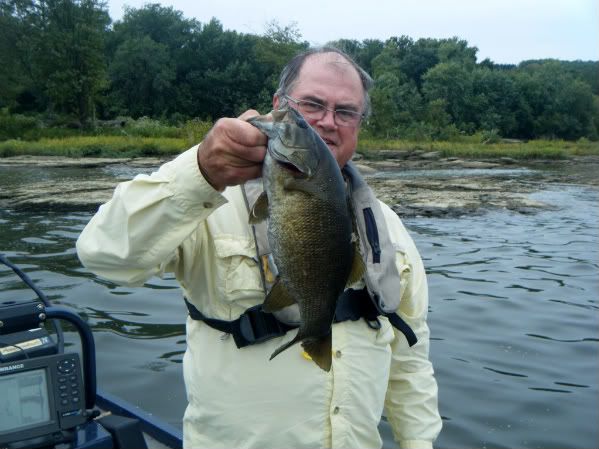 My wife and I were heading up to an old fishing buddy's home to watch the New Holland (Pa) Fair Parade. So Mike and I ended our fishing trip around 2:30 p.m.
It was my very first experience seeing this parade. I attended the Manheim (Pa) Fair Parade when my wife lived in Manheim during our courting days. Thanks to Harry Fetter for inviting us to a great evening, food, and company.
It's hard to say when I'll be able to get out on the river again with this major rise on the way. It will give me time to do some other activities I've been putting off... like another "Let's Talk About..." I have "borrowed" pictures from my good friend and sponsor Al Winco's site. Al makes some fantastic custom plastics that I'll highlight during that talk.
Thanks again for coming to visit. I hope to see you all again real soon.
Dad
Update: 10/02/10 - River predictor has now readjusted to 9.2'.