Spent time at the Big I-105 Fall FanFest at Overlook Community Center. We arrived at the campus around 11:45 a.m. and were greeted by 1000's of people who were already there! Bands included Trailer Choir, Sarah Buxton, Chris Young, Darryl Worley, and Little Big Town.
Live Country Music, in the park, sitting with your loved one and friends, and enjoying the beautiful day outdoors. Nothing can be better except doing all that on my boat bass fishing in the middle of the Susquehanna River! LOL!
My beautiful wife, Julie, is all smiles as she enjoys a day of live country music!
Here's my fishing buddy, Josh.
Julie and Josh relaxing in the cool autumn breeze and listening to Darryl Worley singing "Gettin' You Home (The Black Dress Song)".
Look at that big grin on my face.
Kickin' back and enjoying country music.
Back in the early 1980's, I played bass guitar (Fender Precision) and sang backup in several local country bands. One of my favorites was the AC Sourbeer Band. Arashay C. Borden passed away in April of 2007 at the age of 57. I met Mike and Gaye Mentzer during our AC Sourbeer Band days and we later formed a Rock/Country Rock band known as "August Heat".
Pic of a similar bass amp and cabinet I used in the 1980's. This the Peavey Mark VI version. I played through a Peavey MArk IV amp. Look at those beautiful 'Black Widow' speakers!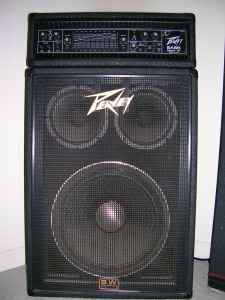 A lot of great times back then. We even had the pleasure of playing backup to Reba McEntire the very day after she was awarded her first CMA "Female Vocalist of the Year" Award - 1984. She came to the Pequea Silver Mine Park and performed with her small band. A couple of years later, my wife and I saw her in concert at the old Valley Forge Theater. By then, she was quite famous and rich... a full back up orchestra, backup singers, and sequin dresses. What a big difference fame brings to a girl from Oklahoma!
Here is the view we had of the stage.
The only thing that could have been better... much better... was the sound system. It was too weak for that many people spread out over that much territory. Just my own personal opinion of something I hope they would improve on next year!
dadTB