Hello Folks,
It has been quite some time since I last posted a fishing report. To tell you the truth, I have only been fishing three times since I sold my G3...
This past July 4th, Josh Kreider asked me if I wanted to go fishing. I jumped at the chance despite the fact that it was suppose to poured all day long... LOL!
We headed to breakfast at the Mt. Joy Diner and then to the Juniata River for a great day of smallmouth angling... We caught over 54 bass throughout the day. Our largest was a 19 7/8th" smallie and a lot of 18-19" smallmouth, also.
So, sit back and enjoy some of the pics we took during the pouring rain...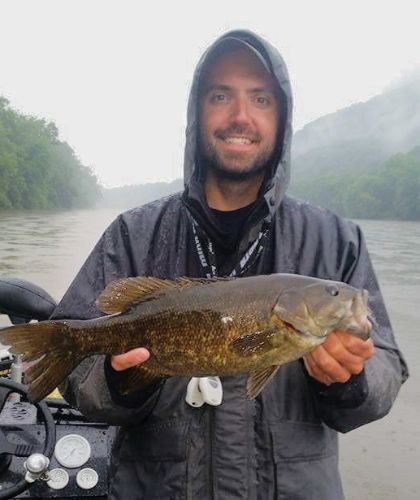 I hope you enjoyed eyeing-up these beauties. The Susquehanna and Juniata Rivers have been on fire over the past month. Many anglers are catching their "personal best" over the past three weeks. So, if you get a chance to head out to the river for some smallmouth action, don't hesitate to take the opportunity.
The rivers have been filled with water and, in fact, the predictor gauges are suggesting that the Susquehanna River at the Harrisburg, Pa. gauge will be rising to 6.7' which is very rare for this time of the summer.
Take Care and Be Safe!
Dad