Hello Folks,
We have been having terribly hot and stormy weather for the past few weeks. In fact, the NOAA Susquehanna River gauge in Harrisburg, Pa. has vacillating from 10' to a rise of 9.1' and back again o 10'. Later, and after more storms and rain past, the predictor called for it o only rise to 8.6'.... I guess the point being is that they had no idea how much rain we were really going to receive in all those storms that past through right before the 4th of July holiday!
Now the hot and humid weather is upon us. We had over six days of temperatures pushing above the 90 degree mark. Although the storms subsided, the humidity and heat did not which made for some fantastic days swimming in the pool!
My oldest son, wife, and our two granddaughters were able to come over five days straight since Chris was off work and Monday. What a great time the our little granddaughters are having!
We invited Josh Kreider and his girlfriend, Rachel, over on July 5th for a swim and cookout. The food was excellent and the pool refreshing. It gave us time to talk and catch up since we hadn't seen each other since April. Since Josh was off all this past weekend, we made plans to go evening fishing on the Juniata River.
I met Josh at 3:00 p.m. Saturday at his home, loaded my gear over into his G3 1860 DLX, and headed to the gas station to fill up his boat's gas tank. We arrived at the launch around 4:45 p.m. and headed west (upriver) on the Juniata River.
The skies were partly cloudy which offered little relief and the air temperature was 93 degrees!! The Lower Juniata River's water temperature read 86.3 degrees on his console depth finder! ... That, folks, is very warm for this time of year.
We caught several smallies, but they were all in and around the 12" mark. Sometime around 6:15 p.m., we made the crucial decision to move downriver and we are both glad we did.
The spot we really wanted to fish was being covered by two shoreline anglers. So, we moved a bit further south and started to catch fish. Within a few minutes, the two shoreline anglers decided to pack up their gear, live bait, and leave. This allowed us the opportunity to move much closer to the original spot we intended to fish.
We had several fish in the boat from our new spot when this 18" beauty hit a black neon tube on a 1/8th oz. tubehead...
We decided to run back towards the ramp before darkness moved in on us and tossed some buzzbaits along a pronounced weed line. Over 30+ bass came in the boat at our last spot and we were hoping to continue our good fortunes at catching smalliesl.
The buzzbait, however, didn't bring us any fish. The free floating strands of long bladed eel grass were effecting the buzzbaits.
We trailered the boat around 8:30 p.m. and headed back to Josh's home. I made it all the way home and put my gear away by 10:00 p.m.
What a great day on the water, but it was terribly hot and humid. In fact, I weighed myself after taking a shower when I got home and I had lost over 5 lbs of water weight... I usually weigh in at about 185 lbs near the end of a day. On Saturday night, I weighed in at 180 lbs... I knew it was hot out, but five pounds lost... Wow!
I noticed that there were a lot of white egrets on the water this past Saturday. In fact, we saw quite a few flying to nest for the evening along the mountainsides. Usually, blue herons work this area, but we failed to see any.
I did spot one dead catfish floating upriver and none of our smallies had those ugly black spots on themthat we've been noticing on the river systems.
While Josh and I were on the Juniata River, Rachel took her nephew shoreline fishing... Can anyone identify where they were fishing?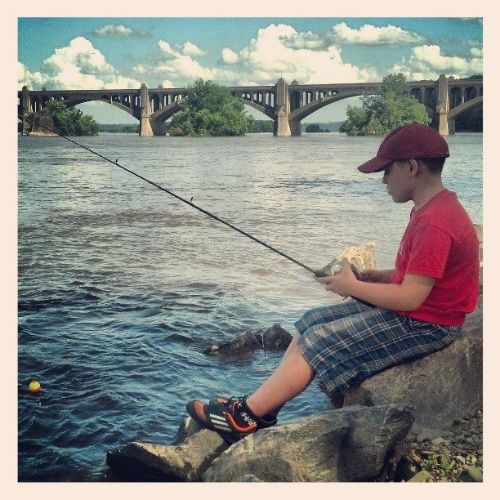 What a great pic, Rachel!
Take Care and Be Safe!
Dad