Hello Folks,
Sorry for the delay in my fishing entries, but my computer has been giving me problems and actually shutdown on me for a few days. My sons worked on it for several hours and finally got it up and running so that I could put this "x-tra large" entry on my blog. I'll have to take it to a reputable computer repairman so that he can remove any harmful viruses or Trojans... My Comcast Xfinity Norton failed protect me for whatever attacked my system... Imagine that!
So, please keep this in mind if you don't see a fishing report for several days... maybe, just maybe, Dad has taken his computer out for repair,
I have been on the water
three
times since my last blog entry. So, I'll break this "x-tra large" entry into three separate parts so that you can easily follow along.
Saturday, March 17, 2012 (St. Patrick's Day)
My first trip was this past Saturday (03/17/22) with Jeff and Penny (The Queen of The Susquehanna River). You may have seen me write about Penny often in past blogs, but this was actually my very first fishing adventure with her on board. We had a such great time although I had to act in a "gentlemanly manner" among royalty. :)
Penny refused to get up too early, so we met at the launch around 8:30 am. (The Queen Rules) Penny told me I could use the seat facing forward since it was still only 44 degrees outside when me made the morning run. She would rather sit with her back facing the wind... Hmmmm ... I don't blame her one bit!
Our local weatherman called for a nice day and it surely turned out that way. By the time we came off the water, the air temperature had risen to 73 degrees.
The water temperature was holding in the upper 50s and the gauge reading at Harrisburg, Pa. was 5' and slowly dropping. We haven't had a decent rain for over a week.
Penny had brought along her beloved live minnies which I used to fish for some walleyes later in the day. Most the day, we were using small tubes and doing quite well with them.
I did sight my first cormorant of the year. What a dreaded bird here on the Susquehanna River. Almost every meeting I have ever attended regarding the health of the Susquehanna River smallmouth population, the destruction caused be the cormorant has been brought up.
We did catch a good number of smaller bass today...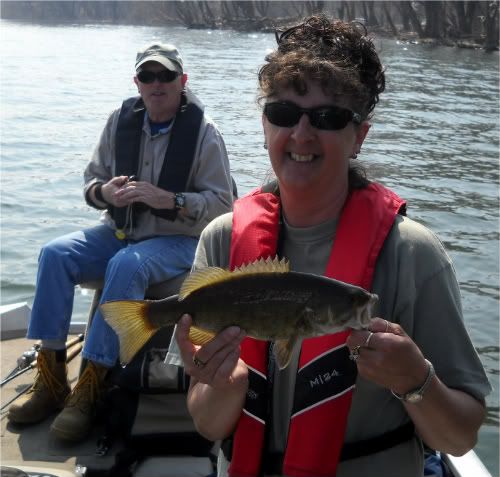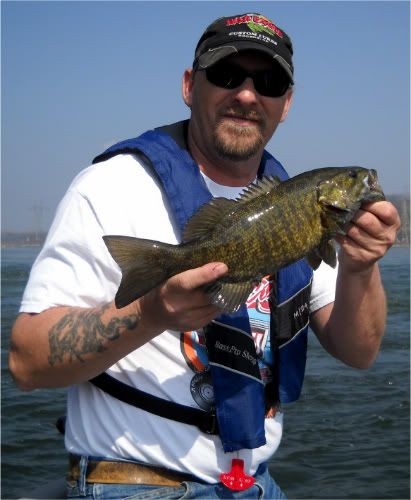 These little guys need a lot of TLC which we are eager to show them.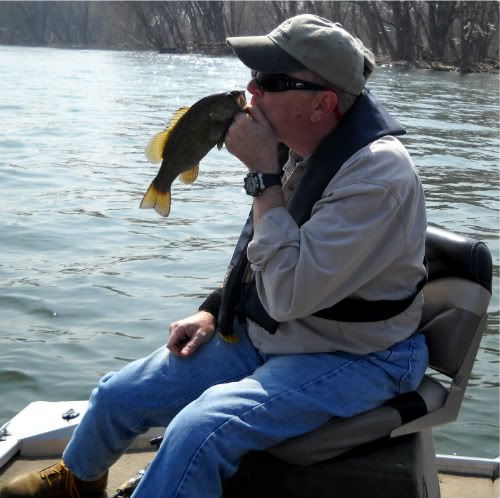 Jeff carried us most of the morning with some very good catches. But Penny and I picked up the pace and by afternoon, we were holding our own.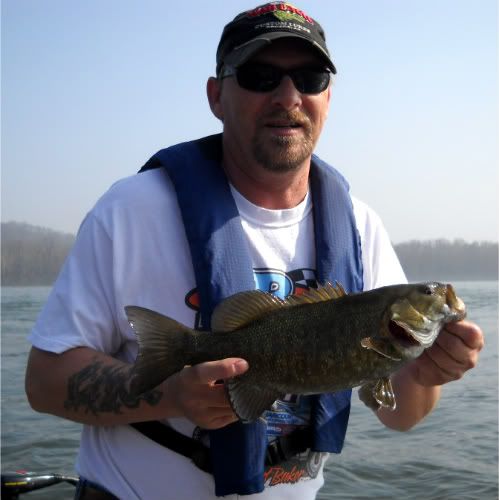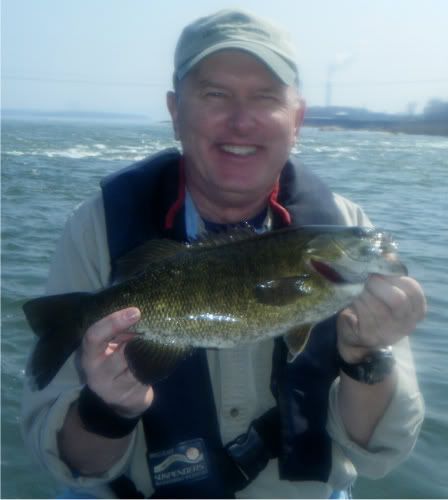 We changed our location shortly after lunch and Penny hooked into a couple of marble-eyed, toothy critters... Walleyes!
You may be wondering why Jeff is pointing down and to his right. Well, Penny refused to take the hook out of her first walleye... Say What!? Come on "Queenie", we would never had thought you were scared to touch one of your royal subjects.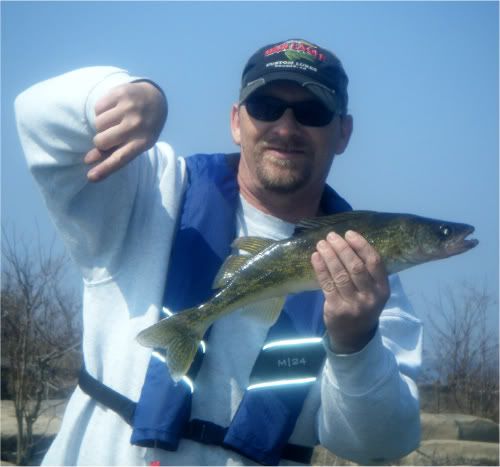 With all the teasing she got, Penny decided...
...to remove the next hook and show her "court jesters" that she was up to removing a hook from her toothy catch. LOL!
It was so pretty where we were located ...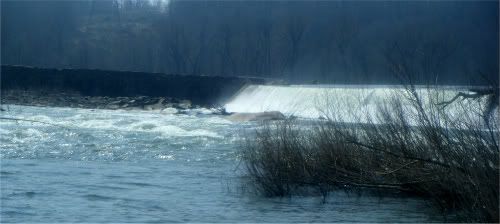 Check out this video of a jet rig running the waters where we were fishing for the wallies... Pretty cool, huh!
Here was a LARGE catch I made on a live minnow... An 8 lb. 13 oz. Channel Catfish!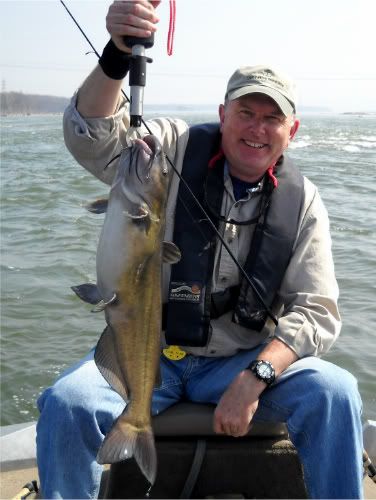 Unfortunately, we did catch another "diseased" smallmouth like Rooster (Joe) caught a few months ago. In fact, I had spoken to my buddy, Mike Burton, who on the very next day caught three smallies from the same location with the same (Sunday, March 18, 2012).
Tuesday (March 20, 2012)
My second trip was with Jeff (CHRGD) on Tuesday, March 20, 2012. Because we had so much fun and success on Saturday, we decided to hit up the same location and I'm glad we did.
It was 60 degrees when I reached the launch to met Jeff at 8:00 am... 60 degrees on the last day of Winter! Although the weatherman called for another sunny day with the high being in the mid-70's, we had cloudy conditions all day long and even had a shower around 12:30 pm that required us to put on our rain gear for about twenty minutes... Do weathermen ever get it right? LOL!
We actually got into a spinnerbait bite. It was a pleasant surprise after catching so many on soft plastics. We were tossing the spinnerbaits along a bank with plenty of laydowns. The smaller (12-16" bass) were holding close to the wood. During that float, we caught over a dozen bass. We even managed to catch a "Double"!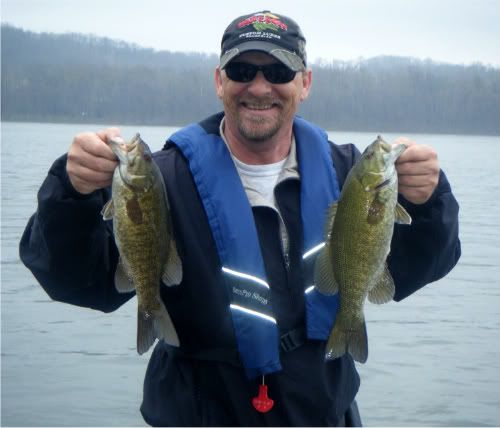 Check out the red eye on this beautiful smallie. It was actually even a brighter red when we first brought it on board the boat... Pretty cool!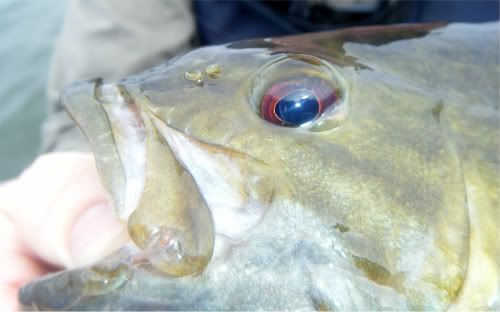 Spinnerbait Smallies...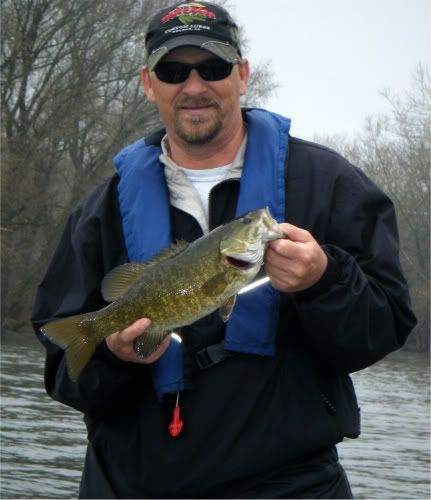 What a great day on the water with Jeff. Most of our hits came off of smaller jigs with green pumpkin or purple flakes...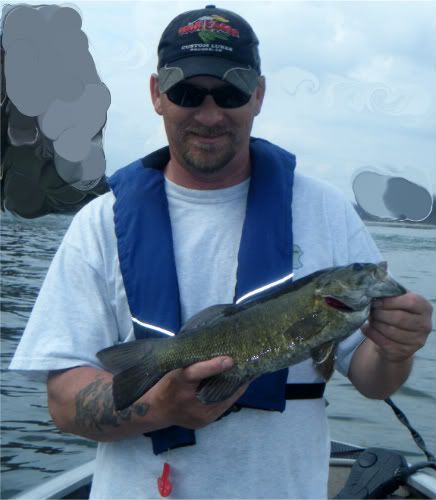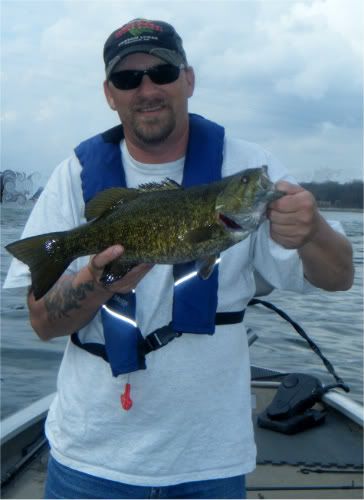 The Release!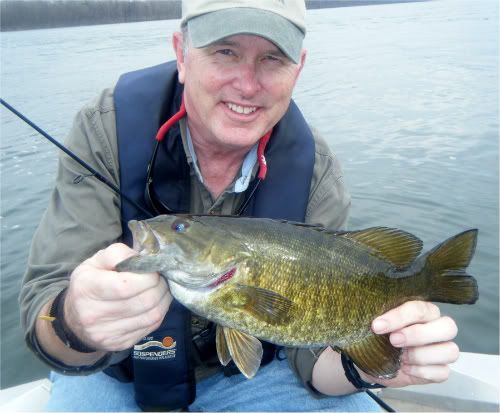 Jeff started the day off strong and carried me most of the morning. But after lunch, the "river gods" smiled on me and I was able to finish the day on a respectable high note.
Wednesday (March 21,2012)
Another Wednesday fishing adventure with my good fishing partner, Josh (smallieman). Although we didn't have the same numbers as my previous two trips, Josh and I were able to land a few really nice size bass on tubes and jerkbaits.
Just as with Tuesday's weather report... Sunny and a High in the Mid-70s... we ended up with cloudy conditions with the threat of a shower... LOL! I know that Josh wished it would have been a bright sunny day so that he could work on his tan, but we did not see the sun all day long.
However, these two "Hawgs" brightened his day...
18.5" Smallmouth on a 4" tube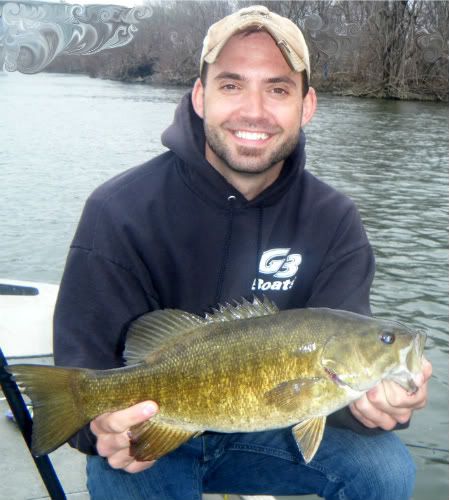 19.5", 4 lb Smallmouth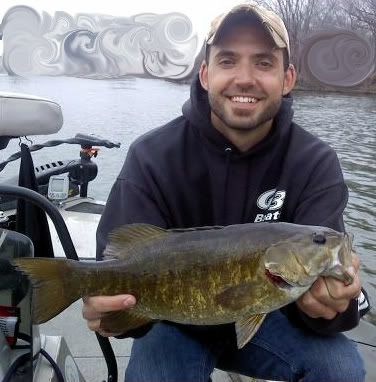 Take Care and Be Safe!
Dad