Hello Folks,
It's good to have friends who like to fish just as much as I do, especially during the colder winter months. Having such good friends offers all of us a look at "how the river's fishing" during some of the coldest months of the year.
Each Friday, Penny and Jeff have a date on the water. They usually end up going in the early afternoon once Penny arrives home from a morning of work. This past Friday was no different and we have the pictures to here at "Fishing With Dad" to prove it.
Now, have I mentioned before that Penny is "The Queen Of The Susquehanna River"? She just loves to fish for Susquehanna River Smallies and I have seen some of her personal lure collection when fishing with Jeff. I definitely believe that Cotton Cordell or Berkley should hire her on the spot in their research and development department. Right, Jeff?
She also likes her "minnies". Penny has spent years perfecting her live minnow presentation and has caught some outstanding fish with it over the years.
The following pictures were taken while Jeff and Penny were fishing Lake Clarke this past Friday. Penny simply dominated with her live minnie presentation. All bass caught this past Friday were caught by "The Queen"!
After viewing these pictures, I am totally convinced that Penny is simply a hardcore winter angler and can keep up with the best of the best.... Some of the following pics show her deeply focused and unwavering she is. But I must say, "Penny, SMILE!" :)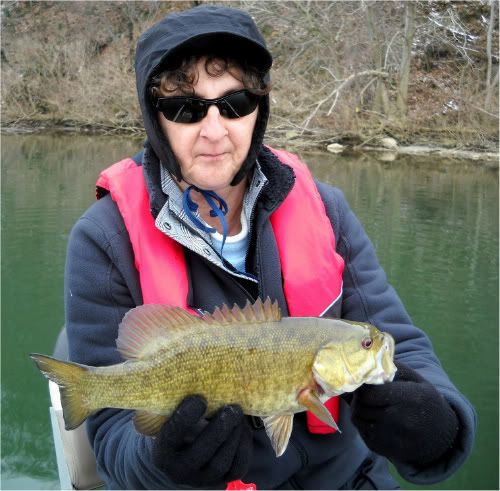 I'm liking this picture!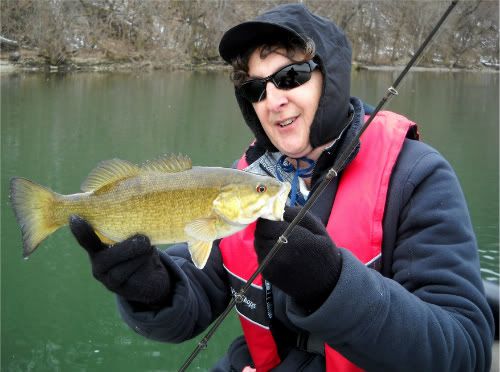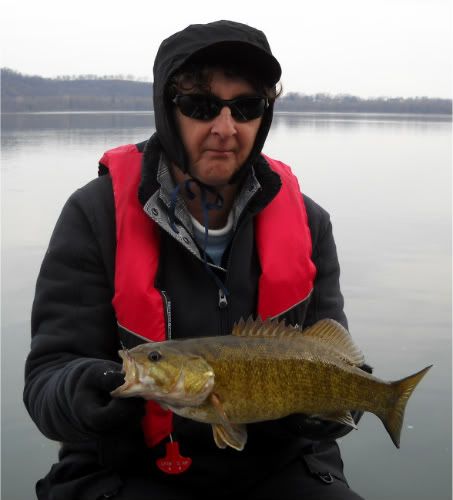 Check out this rare catch by Jeff on the Susquehanna River!
That's right, folks. Jeff caught a 16.5" Rainbow Trout. Maybe I should be calling Jeff "The Slime-Rocket Man"? (Song to the Elton John tune of "Rocket Man") Good job, buddy. It's hard to believe that such a "tasty morsel" would still be swimming in the land of toothy critters.
Take Care and Be Safe!
Dad