Hello Folks,
The Eastern Sports and Outdoor Show is in full swing at the Harrisburg (Pa.) Farm Show Arena. It will be running now through Sunday, February 12, 2012
I spent Monday with my good friend and ex-student, JC Nuss, at the Lakeside Marine Display, Booth 648, in the Fishing Hall. We were joined by his wife, Barb Nuss, Dan Griffin (Owner of Jet Wing, LLC), and salesman, Tom Myers.
Lakeside Marine, Booth 648, Fishing Hall
We had quite a few visitors browsing the collection of G3 boats and pontoon boats on display.
Tom working on a ESOS boat sale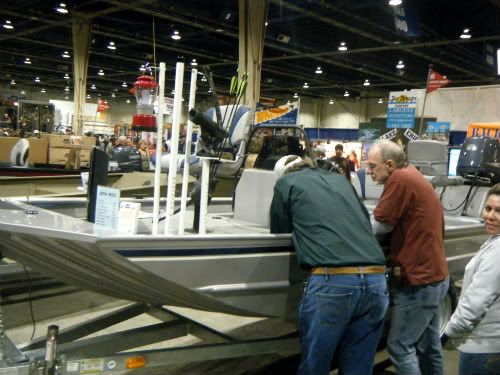 I always set up a display for "Fishing With Dad" and once again included a Shutterfly picture book of this past year's catches. This book was a bit unique comapred to the 2010 version because I added a few pictures of my total knee replacement experience.
"Fishing With Dad" at the Eastern Sports and Outdoor Show 2012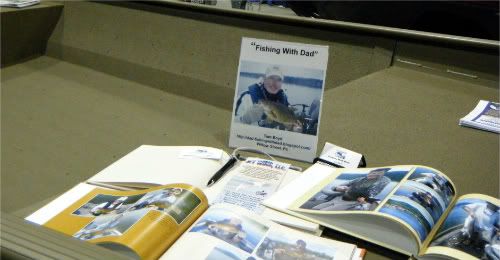 A highlight for me on Monday was the few minutes I spent alone with Hank Parker talking about fishing and hunting. He and his sons are now out of NASCAR or as he said, "NASCAR FREE", as if his son had a racing addiction. :) I remembered him mentioning last year just how expensive the whole NASCAR deal really was. I'm sure that he is enjoying the time he now is spending with his sons fishing and hunting.
His son is now involved in the hunting programming that the family does besides Hank's long-standing fishing show, Hank Parker's Outdoor Magazine Show (2012 will be it's 26th season).
Hank began fishing professionally in 1976, which is the year I graduated from college.... That seems like ages ago! He is one of only a few professional anglers who has won the Bassmaster Classic more than once.
Hank Parker
I always enjoy spending some time with Dan Griffin, founder and creator of Jet Wing, LLC. Dan made a great beef and noodle casserole for lunch and I, for one, appreciated it...
Jet Wing by Dan Griffin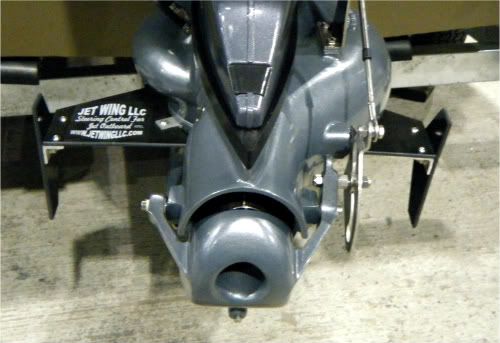 Dan Griffin's Jet Wing, LLC
This past year, Dan has branched out and started to produce several boat aid products. He has a "Boarding Pole, Lantern Pole, Fishing Rod Holder Pole, and a Bow Holder Pole" that one can mount anywhere they chose on their boats. These are functional products and very affordable.
I received a text message this afternoon from my good fishing buddy, Chris Gorsuch (Objet) from
"The Backwoods Angler TV"
, asking me if I was at the ESOS today... No, I will be back at the show tomorrow, Wednesday, February 8, 2012. Thursday, I need to see good ole' Dr. West at the Heart of Lancaster County Hospital for my third and final spinal epidural injection (series of three) for back pain. I will then return to the ESOS Show on Friday and Saturday, February 10 - 11, 2012.
Chris will be at Halls Marine in the Fishing Hall promoting the LoPro boats that he and Blaine Mengel, Jr. use on their television show "Backwoods Angler TV Show" on the new
"NBC Sports Outdoors"
. Stop by and visit Chris and Sherry Turner, wife of Kevin Turner, founder of LoPro Boats.
Keep in mind, 33 days until Daylight Savings Time (March 11, 2012)!
SPRING EQUINOX - March 20, 1:14 A.M. EDT
Pre-spawn Hawg Hunting is just around the corner...
Take Care and Be Safe!
Dad