Hello Folks,
Josh and I made sure we had turned our clocks back last evening so that we wouldn't miss our Sunday outing on the river. We met at 7:00 am. and headed to Gus's Keystone Family Restaurant in Mt. Joy, Pa. for breakfast. It's always fun to eat breakfast at Gus's with Josh because he knows one of the waitresses and many, many of the local patrons.
We chose our fishing location while eating breakfast. We decided to stay below Harrisburg, Pa. today based on information we received from friends regarding Saturday's fishing.
The water level at the Harrisburg, Pa. gauge was 5.27' when we launched at 8:30 am. and the water temperature was a cool 45 degrees and clear with a green stain to it.
The air temperature was only 24 degrees when I left my home and rose to barely 27 degrees as we ran upriver. It was a bit nippy!
Today, I was dressed warmly silks, jeans, long sleeve shirt, fleece jacket, and my large white winter fishing jacket. To keep my hands and head warm, I had a pull on knit hat over my NB Outfitters fishing cap, face mask, and warm ski gloves.
I definitely was toasty with all my winter gear on. I had even added the additional fleece jacket after our last outing. I had felt a bit chilled and thought the extra jacket would help keep me warmer... It did.
Once we arrived at our first fishing hole, I picked up my Lucky Craft 78 in Ghost Minnow and Josh stayed with his trusty 4" mudpie tube with a 1/8th oz. jig head. Within a few minutes, we had our first smallmouth bass in the boat. This beautiful 18.5" smallie grabbed the tail end of my Lucky Craft JB and barely hung on and into the net.
After we landed this fish, the breeze started to pick up and more and more leaves were dropping into the water. It made it almost physically impossible to work the jerkbait without fouling up with fallen leaves. So, Josh stayed with his 4" mudpie tube and I switched over to a 2.5" Green Pumpkin/Orange Flake tube.
Josh hooked into a monster fish and fought it to the side of the boat and it broke free... What a heart breaker!
My first tube fish was this nice 18.75"...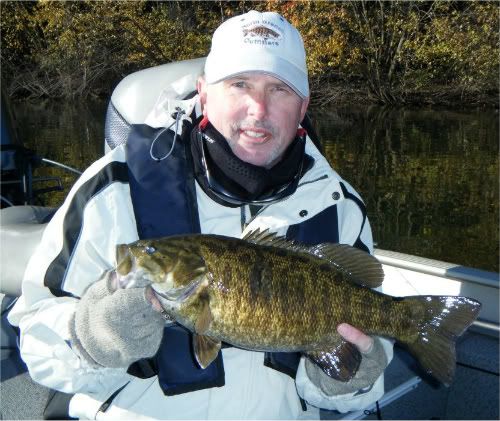 A few minutes later, I hooked another smallie. "That's not a big one", I nonchalantly mentioned to Josh... Wait! This thing is a beast. It came racing towards the boat without much time to react. But Josh was quick and was poised and ready with the net to scoop up this huge smallmouth. However, it slipped under the boat and I tried to force it back out when... Ping! GONE!
Wait, this can't be happening! :( We have just had two behemoths break off and run free. What's wrong with his picture!?
We decided that we weren't going to allow this happen again, for sure. I took time to check my line and even sharpened my hook o be safe. But despite the best plans, I still had two more fish "snap" my line on the hook set. We had a sneaking suspicion that they may have been those toothy critters playing with my lure. But we couldn't be sure since we didn't catch sight of them.
The next fish into the boat was this pigbeast... A 19.75" Goliath! Oh, yeah, now were talking...
As the day progressed, the water temperature rose from 45 degrees to 47.4 degrees. We were pleased with the number of fish we caught today.
Josh ended the day with some great smallies. Here is a 17" "CHUNK" that he pulled from the west shoreline along a grass line.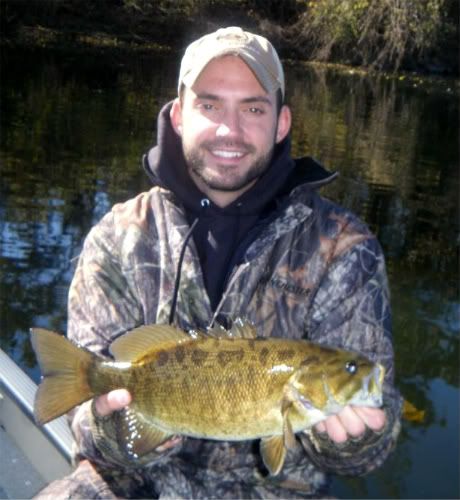 And then finally, as the sun was lowering over the hillside, he made up for that lost bass from the morning with this huge 19.75" smallie...
I am always appreciative my outings with Josh. Another big thank you goes out to him today!
Side Story:
While I was out fishing today, my wife and son took an afternoon drive just south of our home in Southern Lancaster County. Look what they came across... Not one, but three pheasants! It is a rare sight in Lancaster County to run across one pheasant, let alone three.
These three birds ran across the roadway and in front of their car. My wife stopped the car and Zach jumped out and took these pics...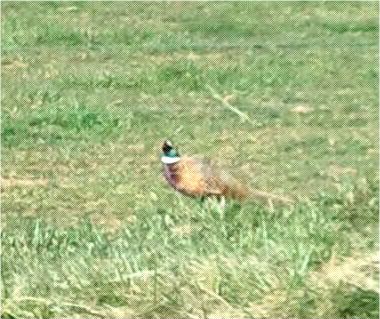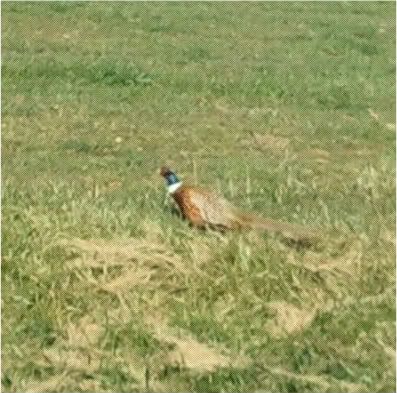 Take Care and Be Safe!
Dad