Hello Folks,
It's been 40 days since I had my knee replacement surgery and I
still
can't bend my left knee. I have been attending three PT sessions per week. During that time, I have had several different therapists working with me and they all agree that scar tissue has taken a firm hold of the joint. These scars grab the soft tissue, tendons, and ligaments and prevent motion. Not only does scar tissue prevent motion, but it puts pressure on nerve endings and causes an extreme amount of pain. Scar tissue in itself has no nerve endings. So when several have broken during PT sessions, I do not feel pain associated with those breaks. When they break, it sounds similar to a finger snap or a small pop.
I have to ride in the back seat of our vehicle whenever I go places with my wife. I cannot bend my knee far enough to slip into the front passenger seat. Sitting on the back seat isn't all that bad. It gives me plenty of room to adjust my leg to a more comfortable position than I would most likely get in the front passenger seat.
Yesterday, my wife took me to see the movie "My Idiot Brother". I enjoyed this situational comedy about a young and "goodhearted" man who has three sisters and a mom who attempt to assist him after he returns from a four month stint in jail for selling pot to a police officer. The young man personally knew the officer and fell for his story of having personal problems.
Although I found this film pretty good, I was surprised that there were only four of us sitting in the theater! I guess there are far too many other movies out now that are splitting the audience.
Over the past month, I've kept in close contact with my good buddy and fishing partner, Jeff (CHRGD). He and his wife, Penny often hit the river on Friday afternoons. This past Friday (09/02/11),they drove to the river to find it a muddy mess...
Knowing that they were faced with a very difficult situation, Jeff and Penny decided to fish and made their way up the the Safe Harbor Dam. The rocks and boulders in this area hold plenty of smallmouth. But this is what they found when they arrived at the "Fish Ladder"...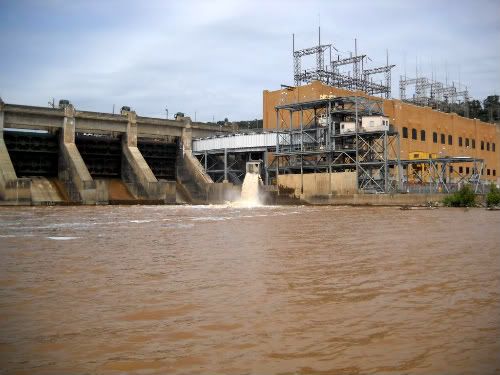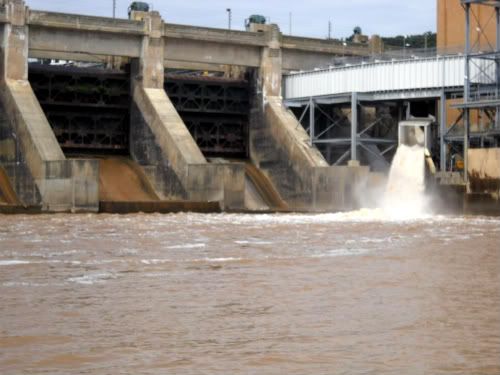 Sometimes pictures just don't show us how severe a situation is. Take a moment and listen to the water fall created by the fish ladder chute... Amazing!
Jeff and Penny remained on the water for approximately 2.5 hours without a single bite. I must give them credit because most anglers would not have even gone out on the water after seeing what it looked like at the ramp. It takes a confident angler(s) to meet such a challenge head-on!
Knowing that the river was a complete wreck on Friday, Jeff and Penny decided to try their luck on a local lake where the water would be more conducive to fishing. This particular lake holds several species of fish, including largemouth and smallmouth bass.
Jeff finally was able to land a largemouth bass. Perseverance and patience finally paid off for the duo...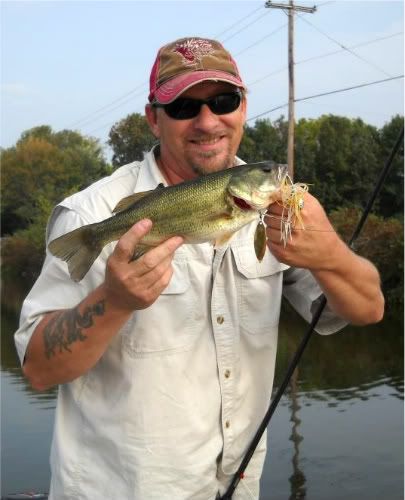 Way to go, Jeff and Penny!
Thank you for allowing me to share your fishing adventures with our "Fishing With Dad" visitors. I must rely on my good fishing friends to provide reports and pics while I recuperate from my surgery. I am eager for the day that I return to the water and can once again bring you my own reports. But until that time comes, we will all enjoy the reports provided by my friends.
Take Care and Be Safe!
Dad