Hello Folks,
My good friend and fishing buddy, Josh Kreider, has returned to his job at the Mt. Joy Co-op. He worked throughout the winter for an over-the-road trucking firm and decided that he needed to be at home during the week so he can fish with me... Not really, but it sounded good!
He did, however, miss not being able to get out as much during the week chasing smallmouth. Not only has his traveling kept him off the water, but the extreme amount of rain we've been having has him off the river(s). Get this!... More rain is predicted for tonight as a line of t-storms are expected to pass through. Storms are just west of Harrisburg, Pa. as I am writing this fishing report. The weatherman mentioned that we may get up to an inch and a half depending on our location. Crap!
Josh had to work last night and we decided to meet at his home at 8:00 am., get breakfast, and get to the river by 10:00 am. We were going to fish in pre-frontal conditions which may make it the best day of the week to be on the water according to the weather reports.
When we arrived at the ramp, I took notice that Josh truck thermometer read the air temperature at 64 degrees. Once we got the boat in the water, his depth finders were reading the water temp at 57.5 degrees. The water clarity was 2 feet in visibility and a milky green to dirty. The wind was blowing from the SSE at around 8 mph. After lunchtime, the wind picked up considerably to ~ 12-13 mph.
I started the day had tossing the same tube I was using last Tuesday while fishing with Jeff. Within two cast, it was gone! I retied the same color tube and proceeded to catch a 13.5" smallie... It's was a start.
Josh then hooked into this 17.5" smallie.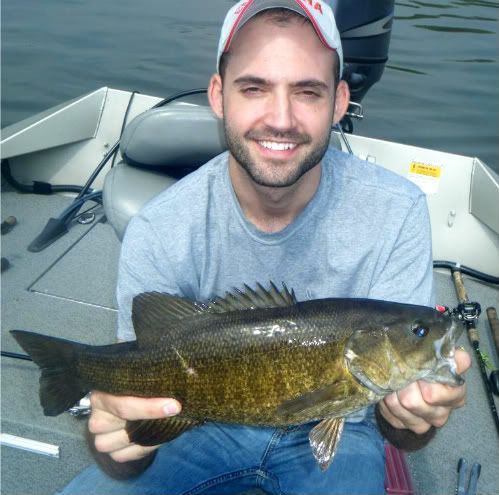 Within minutes, I felt the tug on the other end of my line and fought this one to the boat.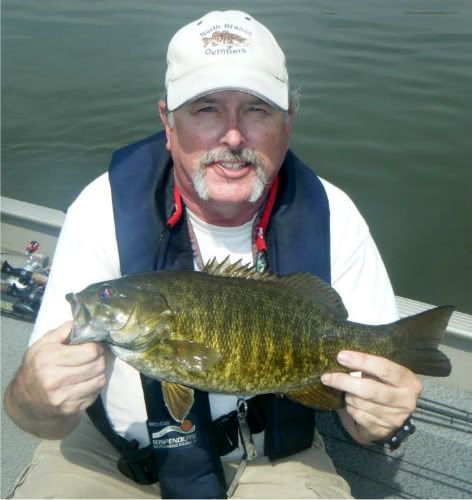 It measured 17 1/8th inch. Shy of Josh's 17.5" and he yelled out, "I still have the biggest fish! YES!" :)
It didn't take me long at all to hit this porker.
Wait... an 18" and no longer did Josh have the biggest fish in the boat... LOL!
Josh was determined and it didn't take long before he bested my catch with this beautiful 18.5" smallie.
He wasn't done as he prepared to put a smackin' on me today. And then he sealed the deal with this beautiful 19.5" pigbeast.
"Way to go, buddy! It looks like the "best-looking guy" caught the biggest fish of the day."
What a great day of fishing! We may not have had the numbers that Jeff and I produced during our last trip, but we did have some quality bass.
Although there was a Virginia truck and trailer parked at the launch, Josh and I saw absolutely no other boats on the river today. We were surprised by that seeing that it was a very nice day to be outside. We both got some sun to start those summer tans. Well, Josh sort of got a "Lobster Red" glow... LOL!
"Sleeping may be tough tonight, buddy!"
Thanks Josh for taking "the ole' man" back out on the water today. It was nice to finally get in a "Tuesday With Dad" outing.
Take Care and Be Safe,
Dad