Hello Folks,
My wife has been keeping me busy over the past few days. She had cataract surgery yesterday and surgeon's follow-up appointment today. Tomorrow, she has a meeting with the techs to measure her other eye in preparation for cataract surgery on April 20th.
These operations are pretty slick. She had to be at the surgical center by 7:50 am. and by 9:00 am., she was walking out the front door and heading home. The entire surgical procedure only took about 20 minutes total. That's simply amazing!
Her eyesight in the corrected eye is nearly 20/20 again! Cool beans.
The weather was very nice today, but the river is rising quickly and dirty due to the recent rains that we had. In fact, the river is rising from 6' to 11' in the next few days. 11 feet is only 6 feet below flooding. From 11' to 17' is called "Action Stage" on the NOAA River Stage website.
I wasn't going to let this beautiful day pass us by without going fishing somewhere. So, I asked my 22 year old son, Zach, if he wanted to go trout fishing with me. He hasn't been trout fishing with his old man since he was a child. He was all for it and we started to prepare.
I already had a trout rod and reel ready for him. We took a shovel to the front yard garden and dug up some tiny earthworms for bait.
After getting enough worms, I showed him my Orvis light weight waders and boots. I told him they were his for today. That made him happy.
It took us about 30 minutes to put everything together and get on the road. We headed to Phillip's Bait and Tackle and picked up a dozen fathead minnows.
The stream we chose to fish had just been "in-seasoned" stocked on Tuesday... good choice. When we arrived, there were only four other anglers in the stretch we wanted to fish. We picked a decent spot across the stream from a fellow and his girlfriend. I watched him pull in a creek chub with a fly rod and that was it. There were several trout in that area, but none were interested in feeding.
We moved downstream to an area that had a nice pool that lies between two riffles. There was a beautiful Palomino laying in this hole. It had absolutely no interest in anything we had to offer. However, Zach was able to entice two trout to take his fathead minnows.
Each fish has it's own story... of course!
Zach was using the micro reel and rod setup. I probably had put way too much line on this tiny reel and he was having some "loop" problems. I told him I would take care of it by cutting some line from it. Before I took the rod and reel from him, I cast my line into the water and then handed my rod to Zach so I could work on his line. Just as he handed me his rod and moved my line, he says,
"Dad, I got one!"
... on my line. LOL! :)
After straightening out the line problem on the smaller reel setup, I kept it and he used my larger reel and rod. Within minutes, he had his second trout hookup.
I got the net and waited as he brought the trout to the bank. Just as he got it to the net, it broke free... but we got it in the net. What luck!
It was a nice way to spend the afternoon with my son. We spent 3 hours along the stream bank talking about fishing and just enjoying the outdoors together.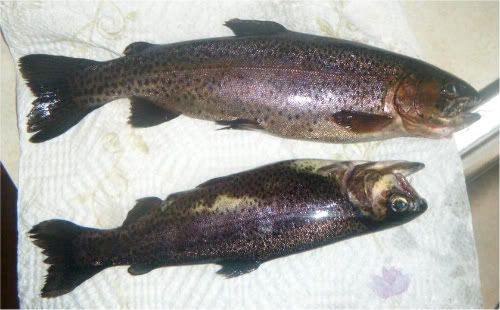 Here is something that made the two of us laugh...
Some folks wonder why they have a hard time catching trout... LOL!
This rig had a Power Bait on a small hook that was attached to a snap swivel. Not that the snap swivel wasn't heavy enough, there were two split shots attached to the line just above the hook.
And I wonder why my son snagged this rig off the bottom of the stream... :)
I have one river option for this coming week. The Susquehanna River will be "blown out" for about a week's time. I may have to go to the Juniata River to get my dose of smallmouth bass fishing in.
Take Care and Be Safe!
Dad