Hello Folks,
As an angler, you understand that "Cabin Fever" is a hard thing to deal with. Although our daily temperatures here in South Central Pa. have been improving, the river is currently blown out after receiving last week over two inches of rain and 20+ inches of snow to our north. Good ole' Punxsutawney (Pa) Phil, the prognosticating groundhog, failed once again in his annual February 2nd prediction of a shortened winter. However, our local, Octoraro Orphie, world-renowned weather prognosticator and the One True Groundhog, predicted 6 more weeks of winter. Looks like Orphie hit the nail on the head once more.
I've always said that since Punxsutawney Phil went Hollywood with Bill Murray in "Groundhog Day" (1993), his percentage of correct predictions have dropped off dramatically... Not really, but I'm sticking to my story. LOL!
As I'm writing this blog, we have a weather forecast for rain to begin tomorrow (Thursday) and continue into Friday. Two days of rain, heavy at times, and a possibility of over 3" of rainfall!!
The Susquehanna River just crested yesterday at one foot below flood stage. It is most likely going to exceed flood stage with this new rain event.
So, how does one addicted angler bide his time waiting for the weather to improve and the river to drop into manageable levels?
I have been extremely concerned about the new proposed Pa. Governor's budget for this coming year. He has proposed a cut of $1.47 billion dollars from public education. He and his cronies are systematically trying to dismantle our public education system and our higher education system. I have been reading a lot about this and I am very, very concerned.
A second thing that our new Governor wants to do is free up over 700,000 acres of state forest land for gas drillers. There is an environmental group waiting in the wings for him to lift the moratorium on drilling so that they can sue him... Should become very interesting indeed.
This is also the same Governor who has refused to tax the gas drilling companies in order to bring more revenue into the state coffers. Hmmmmm?
Let's see... Cut monies from our state public education system and do not tax the gas companies. Who has who in their back pockets?
I am also extremely concerned about the possibility of environmental damages caused by the fracking procedures used by the gas drillers.
This reading and research has help pass some of my time.
Shopping for lures to update my massive supply of tackle is another way I have been spending my time. For example, today, my son and I traveled into Lancaster, Pa. to shop at the "Susquehanna Fishing Tackle's" annual "Cabin Fever Sale". 10-50% off all items in the store... You can't beat a sale, especially a tackle shop sale!
I had $80 in 2010 Christmas gift certificates to use towards my purchases. What you see below is about $64 worth of tackle. I have a remaining $14.22 for future purchases!
My boat is now back in the garage and awaiting it's first trip to the river. I had planned a trip a few days before the rains set in, but the weather shifted and kept me at home.
Here is my jet rig sitting in the quiet and dark garage. Everything has been loaded into the boat except for my rod and reels. What a sad sight... "All dressed up and nowhere to go!" :)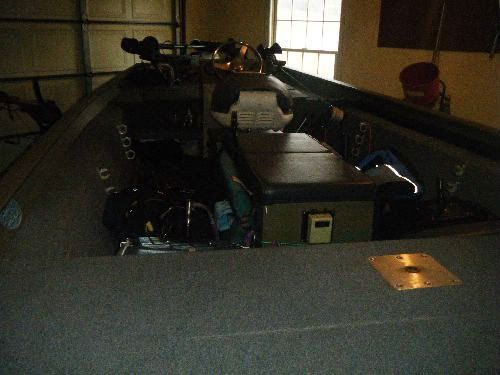 Whenever they do any work on my motor, Lakeside Marine will give me back the old used parts that they have replaced. Here is a list of the work that they did for me in February, 2011.
*Changed Motor Oil
*Lubed
*Checked Over The Trailer, Wheel Bearings, and Bunk Brackets (All were good!)
*Removed Intake and VST Tank... Replaced all internal hoses on engine... Reassembled
*Changed Water Separator Filter
*Replaced All Gasoline Filters
My 115/80 Yamaha would start up but hesitate or conk out when I first throttled it. This was all caused by E10 (10% Ethanol) Gasoline use over a five year period.
Clogged Filter
(Sorry for the crappy picture. The filter was in a sealed plastic bag.)

Replaced Hoses and Filters
I am concerned about this upcoming rain and what it will eventually bring... Flood Waters. I have several friends who have cabins along the North Branch of the Susquehanna River that they often get flooded out in high water events. Hopefully, the rains won't be too bad and their cabins will survive yet another season.
I will be fishing the North Branch from April 9 through the April 12, 2011, with Josh Kreider. It is our annual Spring trek north in search of smallmouth. What we fondly have named "The Invasion Of The Flatlanders." :)
As you can see, I've had a hodge-podge of things happening since I last wrote to you.
Tomorrow, I have an appointment with an orthopedic specialist/surgeon for knees. I have not been easy on my body rowing up. In fact, besides the normal sports of basketball and baseball, I also used to be a Judo competitor in college and afterward. I damaged my left knee in competition about thirty years ago and had it reconstructed... Doesn't sound good, does it?
Well, recently, my left knee has been giving way on me. Sometimes it just happens while I'm standing still... Not a good sign at all.
I will keep you informed of what the surgeon says after tomorrow's visit. You know I'm due for my annual degenerative arthritis surgery... LOL! Nothing he says will surprise me... Absolutely nothing!
Take Care and Stay Safe!
Dad