Hello Folks,
It won't be for awhile until I get back out on the Susuqehanna River. Check out the predictor for the next few days at the Harrisburg, Pa. gauge: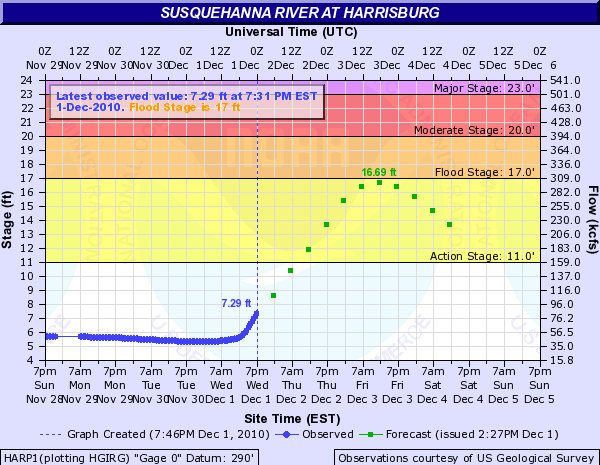 This is a very extreme rise in just two days. Because it is just a predictor, this level may be off... The next few days will tell.
We just received two days of rain with today providing the most rain. There were extreme weather conditions today with winds creating the unusual side way rain. Before noon, we had an air temperature of 63 degrees. By 1:00 p.m., the temperature dropped a whopping 25 degrees to 38 degrees!! I haven't seen such a drastic drop in one hour in many, many years.
There was a day years ago when I went fishing with JC Nuss from Lakeside Marine. The air temperature was 55 degrees when we set out to fish Brunner Island and it was snowing when we "trailered" the boat. I remember that day so well because a group of us from the Lancaster County Hawg Hunters were gathering at JC's garage to pour jig heads and make spinnerbaits and buzzbaits.
I will remember this day, as well.
Take care and Stay Warm!
dadTB