Hello Folks,
It always interests me to know what seasonal lures anglers are using when fishing for bass. Whenever I read a report that someone has submitted, I look for the lures that were used and why they were chosen. What I find is that the reason for selection is often left out of the report and even I am guilty of doing that.
So, this morning, as I was preparing to take my reels in for their annual maintenance check, I took note to the lures I had tied on during my last trip. I grabbed my camera and took a snap shot of the last four that I used. I had also used a 2.5" tube, but I didn't take a picture of that one since I assumed most of you knew what a typical tube bait looked like.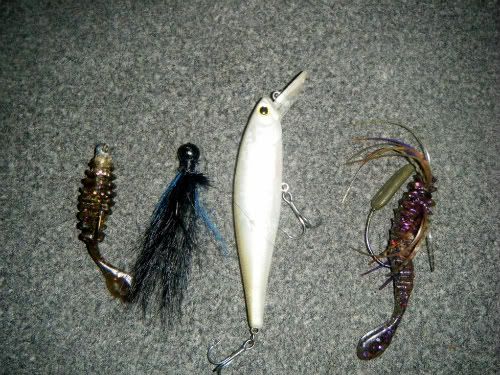 The lure on the left side of the picture is Al Winco's new and very productive "Chillee Willee". It measures in at 3" long and has a very recognizable paddle tail design. This small profile bait has been a killer in very clear and cold water. It has been catching fish on the Susquehanna and Juniata Rivers for the past several months and was productive for Juan Veruete last weekend as he and Jeff Little fished the confluence of the Juniata and Susquehanna RIver.
Central Pennsylvania Fishing:
Kayak bass fishing with Juan Veruete

Jeff Little and Juan Veruete Last Weekend
The "Chillee Willee" has a unique paddle tail that is designed to rise off the bottom when used with the correct jig head.
Winco's Custom Lures
The next lure in line is a standard home made hair jig with a 1.4 oz. jig head weight. I tie these myself using dyed deer tails and black thread. The jig heads are dipped in powder paint. I don't "cure" the jih heads because I rarely have them long enough to worry about... LOL!
The third lure is a Lucky Craft Pointer 100 in a Chartreuse Shad. The Pointer 100 measures in at 4" plus the extended lip. We turned on to LC Pointers a number of years ago and have been using them ever since. They usually run around $15 and are well worth the expense.
The fourth and final lure I was using is an Al Winco's Cold Water Smallie Delight (CWSD) rigged on a Winco Flutter Head Jig. DRY1 (Bill) has made this one well-known as he winter fishes the Susquehanna River shorelines of Selinsgrove, Pa.
The CWSD measures in at approximately 3.5". It is attached to the Flutter Head Jig by a coil keeper. This allows the lure to lat out straight when rigged.
The CWSD also has "tentacles" added for attraction.
Okay, so why do I use these lures during winter months? It's quite easy to understand and not rocket science at all. They match the forage of the season. The crayfish are all dug into their wintering muddy banks and the bass, when feeding, are looking either for bait fish or fly hatches/terrestrials. There are hatches happening everyday of the year along the Susquehanna River.
So there you have it, folks. A little run down and some pertinent information regarding the lures I used on December 11, 2010 and the simple explanation as to why I selected them.
I wish I could impart how to fish these in a short writing, but that, of course, is impossible. You'll have to do a little researching on the water yourself to figure that one out.
Take care and stay safe if you plan to fish this winter.
Dad