Hello Folks,
I wasn't going to let those smallmouth put a smackdown on me two days in a row... Right? Wrong!
I had spoken to Steveinpa last week about getting together this morning and doing a little fishing after my occupational therapy. He was all for it until he heard yesterday's fishing report from the area we had picked to launch from.
Steve had a very long week of hunting. In fact, he got his personal best with his bow... a 9 pointer! He then drove to Bradford County for a weekend of hunting and returned late afternoon yesterday. I'm sure he was a bit tired after driving that distance and spending so much time in the outdoors in a tree stand. So, he decided to reschedule our trip.
That was fine with just fine with me and I made my own plans to fish alone down here in Southern Lancaster County.
We all woke to a very beautiful morning here in South-central Pa. Sometime around 7:15 a.m., I get an unexpected text message from Steve... "Do you want to fish for a few hours after therapy?" Heck, yea! Our trip was back on.
I arrived at the river access around 10:10 a.m. and loaded my gear into Steve's boat. After discussing our strategy for the day, we headed to our first hole. In less than 30 minutes, I had this nice "just short" of 16" smallie in the boat.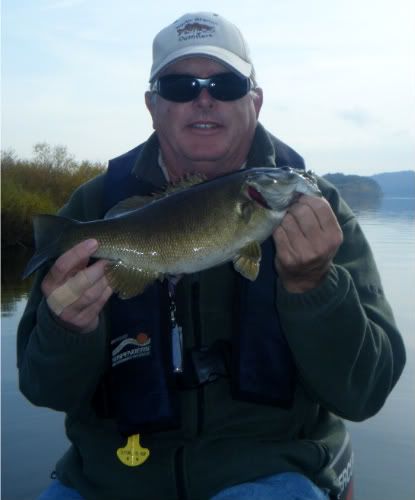 The first thing that crossed my mind was "That was quick. Maybe this will be a much better day." NOT!
I tossed a few more times at the same general area and had another hit... Swing and a miss. Dang! This was very encouraging, for sure!
Folks, this was the last fish I felt for the next three hours... LOL!
Steve nailed a smaller bass at our second spot on a Lucky Craft suspending jerkbait and that was it for him.
We ran to several more spots before calling it a day. The wind had kicked up in the early afternoon from the SSE at about 15 mph. This made it hard to keep in contact with our soft plastic lures. Heck, we were already hanging a lot on the tubes. I can just imagine what would have happened if we jumped up the weight of the tube head ... arrgghhhhh! It most likely would have just agitated us even more.
The water surface temperature was 51.9 and rose to 53.9 by 2:00 p.m. The water on the west shoreline was very clear and the east shoreline was murky and cooler.
The air temperature when I arrived at 10:10 a.m. was 61 degrees and it rose to 70 degrees by 2:00 p.m. The clouds and wind had moved into the area.
I had mentioned to Steve that I hadn't seen the two eagles yesterday that live in this area. But somewhere around 1:30 p.m., I spotted one of the mature eagles gliding across the water just south of us. It's always nice seeing such a majestic bird of prey in flight over the river.
After a little over 3.5 hours of fishing, we called it a day and headed back to the ramp.
Yes, I am a glutton for punishment. But one of these days, this area will light up once again as it did several weeks ago. I just hope I'm there to take advantage of it's fantastic fishing.
Dad