Hello Folks,
The day started out with a lot of rain. I had OT (Occupational Therapy) for my elbow a bit later than usual due to a schedule change. I arrived at OT around 9:00 a.m. and went through an hour of organized torture... LOL.
Dave Warholic (Daveinpa) had emailed me on Monday to see if I wanted to fish with him on Wednesday... "Heck, yea!" haven't been out with Dave since May, which was before my elbow surgery.
He wanted to fish Lake Aldred, but there currently is a draw down of the lake for work being done on the Holtwood Dam. The normal top level at Lake Aldred is 169.75', but it is now recalculated at 165'. The actual lake was drawn down to 164' today... That puts the PPL Pequea Ramp in the mud! NO access to over 8 miles of river on the Lancaster County, Pa. side of the river.
So, we chose to fish Lake Clarke from the Columbia, Pa. access.
Dave was able to get a half day off yesterday and we met around 1:00 p.m. at the Columbia Ramp.
The skies were still cloudy with a bit of rain and drizzle. We were dressed in rain gear and headed out in search of smallies.
Dave had jerkbaits tied on to every rod. I knew what he was planning to use... LOL! Seeing that he had chosen a jerkbait, I thought I would cast a 2.5" tube so we would be using a mid-range and a bottom lure at the same time.
It took about an hour or so before we hooked up with this nice 17" smallie on the tube.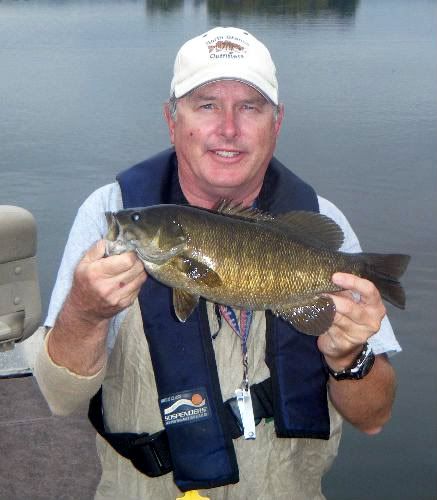 As we worked our way through the rock garden, Dave had a decent size channel catfish take his jerkbait. The water was clear enough for us to see that cattie come off the bottom and attack his lure... Cool!
We were closing in on the western shoreline when I hooked up with our second smallie of the afternoon. It was a nice 15" smallie that was laying among some smaller chunk rock and boulders.
We came across Jeff (CHARGD/Tracker_120) and his wife, Penny. I called over to them and we acknowledged one another. Just afterward, Penny hooked into this beautiful 19" smallie on a grub. "Hey Penny, was that a grub?" :)
I'm getting a sneaking suspicion that Penny is teaching Jeff how to fish... LOL!
I told Dave of a nearby spot that was really hot many years ago. So, we decided to check it out. Dave had picked up a tube and tossed it into this area and "swing and miss". First cast, Dave had a hit.
I used to catch fish on this spot during the fall months on spinnerbaits and lipless crankbaits. I was tossing a spinnerbait without any luck. Dave picked up a Rat'l Trap and was able to land his first smallie... Good job, Dave!
We worked our way down the western bank without any success and decided to head back into the rock garden.
Dave finally hooked into two smallies on his jerkbaits. He was very persistence with the JB and it finally paid off for him.
I only had one more "hit and miss" on the tube before we decided to call it a day.
A pic that Jeff took as we were heading back across the rock garden. You can see the newly renovated Columbia ramp in the background...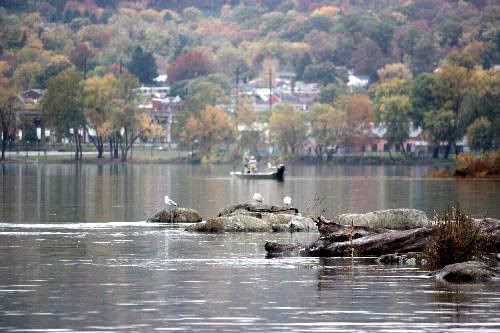 A big thanks goes out to Dave for giving me another opportunity to fish with him. He has a beautiful Snyder boat with a 1/2" poly bottom coating. What was really cool was that Dave allowed me to run his boat from the west shoreline back to mid-river and into the rock garden. It takes a bit of getting used to since the Snyder Boat doesn't have a keel/ribs and slides very easily. Nonetheless, I enjoyed the experience!
Dad