Hello Folks,
I've been waiting for this day since last Monday (August 23, 2010). I've been hoping this day would get here quickly... and now it's here!
I had my follow-up visit to the surgeon's office at 1:00 p.m. and got to see the "damage" caused by the surgery. It really doesn't look too bad at all. There was one snip of a suture and a long pull. The pull removed a long stitch and that was the extent of it. My elbow is still numb from the incision and I felt absolutely nothing.
I got a new prescription for pain medicine in case I need it while in rehab. The PAC also gave me a script for Occupational Therapy (OT) evaluation.
I ran into the tech who worked with me when I had my surgeries last year and he walked me out to "check-out". I think I made him feel a bit guilty when I saw him standing in the hallway waiting for his first afternoon patient... "Hey, why aren't you busy?" :)
The girls at the "check-out" know me pretty well and set up with another surgeon's appointment on October 1, 2010. Boy, October already! Bass Fallfest is just around the corner... Yeah!
They also had me pick from three complimentary gifts... LOL. I always find that funny. There was a hat, t-shirt, or tote bag. I have several of these at home from previous surgeries. But they change their t-shirt designs. So, I chose a nice new green t-shirt to add to my wardrobe.
If I keep having surgeries, I'll never need to buy another t-shirt as long as I live! :)
Well, here's a pic that my son took of my elbow once I got home. The purple mark is a surgeon's marking prior to the surgery. This a procedure that they have been doing now in order not to make any mistakes like we read about in the newspapers... "Man has wrong arm operated on". You know what I mean...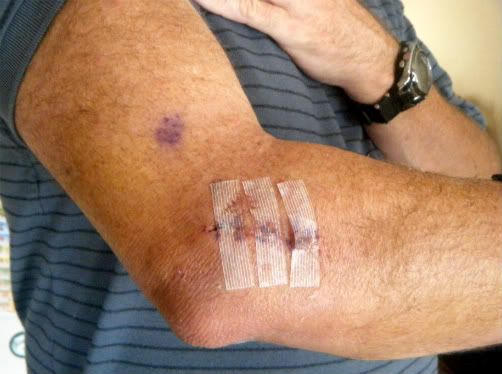 The large knob I have on the end of my elbow is a huge bone spur. I actually have a matching one on my left elbow... I must be symmetrical with my bone spurs... Ha! It doesn't hinder my elbow movement nor cause me any pain. So the surgeon has left both be.
The strips will work their way off over time, but remain attached while the healing process continues.
AS soon as I left the surgeon's office, I was on the phone and calling the OT office. We set up my evaluation meeting for next Wednesday. On the way home, I dropped off the script so that my OT, Laurie, can get my file started.
Laurie did a wonderful job, as did her staff, when I had my wrist and hand operated on in February of 2009. I'm looking forward to reacquainting myself with her during this round of OT. I know she'll do a great job getting me back into shape over the next two months.
I'm looking forward to picking up my rods and reels when fall fishing is here and at it's best. I have, however, canceled my Susquehanna River North Branch trip for the first week of November. I didn't want to leave Josh in a bind at the last minute by not having a partner to travel with him. I'm not sure if my healing elbow will be in good enough shape to fish four solid days in a row. Why risk it?
Take care,
Dad