Hello Folks,
I'm back from the surgical center and not feeling too bad. The staff took extra special care of this big baby... LOL.
My wife stayed home to assist me and drive me to and from the center.
We got up at 5:30 a.m. By 6:15 a.m., I had my wife at the restaurant for a quick breakfast and a moment to read the local newspaper.
We arrived at the Surgical Center at 7:30 a.m. and were admitted immediately... Good!
What's funny is that they all remembered me from my surgeries last year. I'm not sure if that's a good thing or not. :) It certainly made me feel more comfortable.
My care nurse was named Beth and she did a fantastic job. In fact, I dread the placing of the I.V. However, beth did aa great job with minimum discomfort. What a pro!
My anesthetist was very pleasant and a good listener. He ordered a Valium-like medication to ease my anxiety and a medication to settle my stomach from any nauseous feelings. Both meds made me feel quite comfortable and relaxed.
When the OR nurses came for me, I found out that the one nurse had my same last name. In fact, I knew her mother years ago when we worked together at Lancaster Catholic High School. It certainly is a small world.
My surgery lasted about one hour. I woke up under the influence but rebounded rather quickly. I've been like that after most of my surgeries.
I'm now home and on the mend. I have a follow up appointment with the surgeon on September 3, 2010. The sutures will be removed and my OT appointments arranged at that time.
Do I still look a little groggy?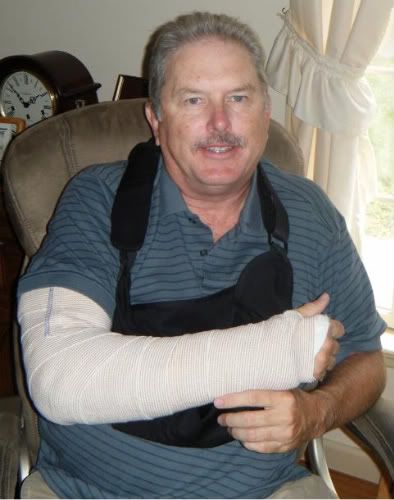 Certainly does put a damper on the casting!
Take care,
Dad