Our good friend Bill was able to obtain the following data from the Pennsylvania Fish and Boat Commission. Big kudo to him for being persistent in his pursuit to get our biologists' studies.
I am definitely do not have a degree in biology nor do I play a biologist on t.v. But from what background I do have, it doesn't look good. What does look good is the lack of finding diseased fish. There were only a few located on the North Branch of the Susquehanna River totaling approximately 1.22% of the 327 studied.
I was in touch with my good friend, Mike Burton, who told me that there are actually better numbers from the fall studies, but we haven't seen any data from them at this point.
UPDATE: This data is now on the PFBC website.
Please read over these charts and feel free to develop your own opinions about what the data may say to you. Some of the three charts may be cut off due to the format of the template. Just click on the chart and the full chart will appear on my PhotoBucket.
Page 1
Page 2
Page 3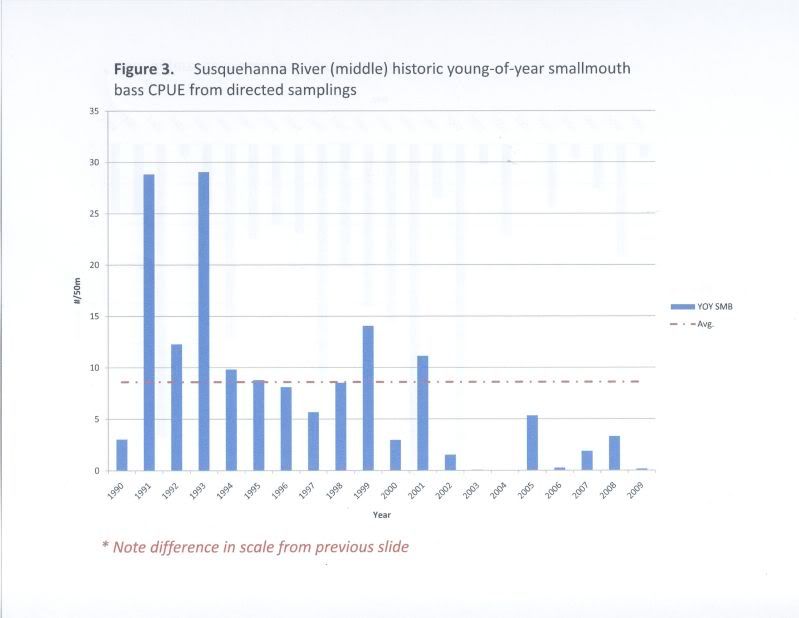 Please pass this information on to all who you know has an interest in our smallmouth population.
dad